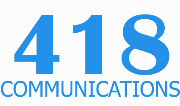 LEXINGTON, Ky. (July 25, 2018) – 418 Communications, a full-service public relations consultancy, has opened in Lexington, Ky. Founded by husband-wife team Emma and Coley McKinstry, the company specializes in helping clients tell their stories to the world through carefully planned and executed media campaigns.
418 Communications represents clients in a broad range of industries including beauty, childrenswear, fashion, professional services, technology and travel, among others. The company specializes in traditional media relations, but additional services offered include social media, content creation, internal communications, and thought leadership.
Emma McKinstry previously worked at Goodman Media International, a boutique PR agency in New York City, where she focused primarily on clients in the healthcare, non-profit, and publishing industries. After relocating to Lexington in 2015, she began working as an independent contractor focusing specifically on early-stage start-ups looking to launch and grow their visibility in the media.
After more than a decade in the financial industry, Coley McKinstry made a career change earlier this year, joining Emma in public relations. During his time in finance, Coley's daily responsibilities regularly centered around communications, equipping him well for his role at 418 Communications.
Additional information about 418 Communications is available at www.418communications.com.