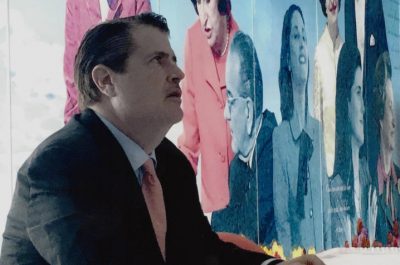 LEXINGTON, Ky. (July 26, 2018) — Kyle Longley, a graduate of the University of Kentucky, has been named director of the LBJ Presidential Library by the archivist of the United States. A distinguished historian, Longley will be the fifth director of the library, named for Lyndon B. Johnson, which opened to the public in 1971.
"Longley's extensive historical knowledge, combined with his teaching, research and leadership experience, will be of great value to the National Archives, the Johnson Library and its constituents," David S. Ferriero, archivist of the United States, said. "We welcome him and look forward to working with him on future projects and programs."
In 1993, Longley graduated from UK with a doctoral degree in history from the College of Arts and Sciences. Since then, he has achieved great success in the academic world. Longley attributes his accomplishments, in part, to the lessons he learned at UK from Professor Emeritus George Herring, who retired after 36 years.
"George had a significant impact on me. He helped shape my worldview," Longley continued. "George taught me the importance of caring about your students and faculty. Despite being a prominent historian, he was willing to help anyone."
Following graduation, Longley taught for a year at Centre College. He went on to become a visiting professor at Citadel. In 1995, Longley accepted a faculty position at Arizona State University, where he served in several administrative roles.
Though Longley no longer lives in the commonwealth, he still speaks highly of his time spent in Lexington. "It was the best four years of my life," Longley said. "UK has a school spirit that is not replicated in many places."
An expert on U.S. foreign policy and modern American politics, Longley has written eight books, with another forthcoming in December, including "In the Eagle's Shadow: The United States and Latin America"; "Senator Albert Gore, Sr.: Tennessee Maverick" and "The Morenci Marines: A Tale of Small Town America." His most recent book, "LBJ's 1968: Power, Politics, and the Presidency in America's Year of Upheaval," was published this year.
Longley has received several awards including the Zebulon Pearce Teaching Award for Outstanding Teacher in the Humanities, the Associated Students of Arizona State University Centennial Professor, ASU Habitat for Humanity, "Making the World a Cooler Place to Live" prize for teaching and the Kappa Alpha Fraternity National Teacher of the Year award.
Longley is also active in community engagement. His research and writing has been featured in national media outlets including The New York Times, The Washington Post, Los Angeles Times and Newsweek.
Longley is eager to step into this new prominent position as director. He hopes to follow in Herring's footsteps and lead with humility. "It's about managing a large staff and trying to make sure each and everybody is appreciated and respected. It's important to value everyone's contributions."
Located on The University of Texas at Austin campus, LBJ Library is one of 14 presidential libraries in the United States. Visitors have an opportunity to learn about America's 36th president, Lyndon B. Johnson. Through innovative, state-of-the art exhibits, the political and personal life of Johnson comes alive.
Previous directors of LBJ Library include Chester Newland (1968-1970), Harry Middleton (1970-2002), Betty Sue Flowers (2002-2009) and Mark K. Updegrove (2009-2017).
Longley's role as director will begin July 29.