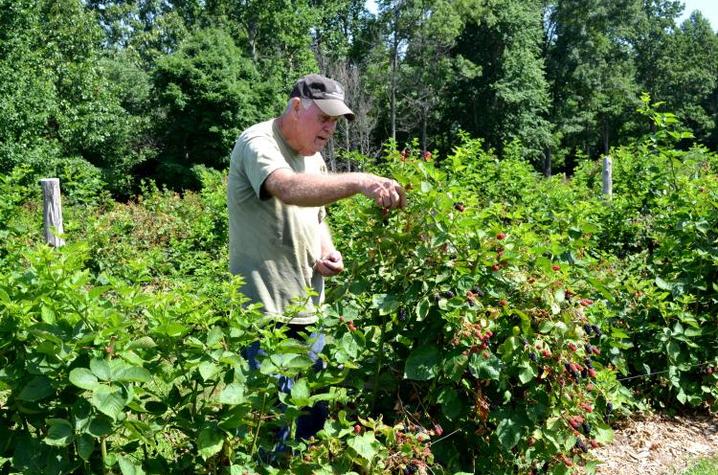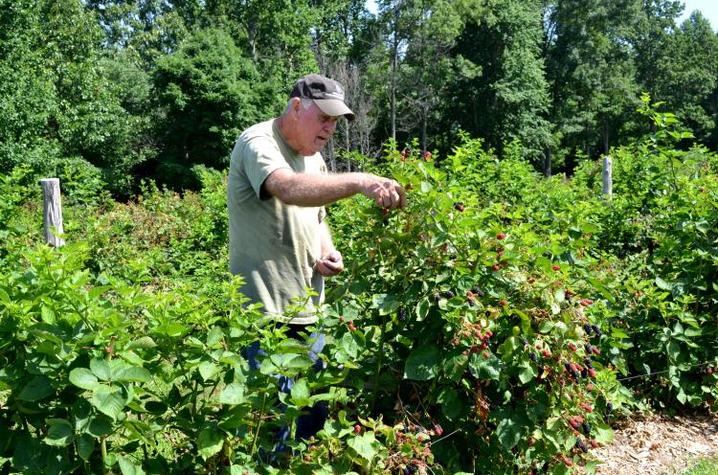 GREENVILLE, Ky. (July 27, 2018) — On a hot, humid Kentucky summer morning, Bennie Winn methodically handpicks blackberries and places them in quart-size containers on his Muhlenberg County farm.
Just a few hours later, Muhlenberg Countians will arrive well before the county's Farmers Market opens to get in line to purchase Winn's blackberries from his cousin John Winn, who is another market vendor. Niche products with a short growing season like blackberries help drive customers to the farmers market, and they sell fast.
A retiree of the Ford Motor Company in Louisville, Bennie Winn moved back to his hometown and decided to grow the berries as a hobby, as he fondly recalled picking them for his mother as a young boy.
The local food movement may be most closely associated with large metropolitan areas, but it continues to gain traction in rural communities like Muhlenberg County. In 2017, sales at Kentucky farmers markets topped $14 million, up from $7.6 million in 2008. During the same time, 41 community farm markets have opened in the state and an additional 621 vendors have come on board.
"Direct markets for produce in Kentucky are very strong," said Tim Woods, agricultural economist with the University of Kentucky College of Agriculture, Food and Environment. "We still have some work to do, but we have some great distributor partners and retailers doing an awesome job."
In Muhlenberg County, the farmers market has averaged around 15 vendors a year since a permanent facility was built in Powderly in 2014. Vendors include everyone from full-time farmers to teachers. In 2017, these vendors had a gross revenue of $35,000, which is up from previous years, and a number they will likely surpass in 2018, according to Darrell Simpson, the county's agriculture and natural resources extension agent.
"The locally sourced movement is really starting to drive the market," Simpson said. "We also have an aging population, and a lot of those folks have stopped growing gardens. It's so much easier to go to the farmers market and buy that fresh, locally grown produce."
That is good news for growers like John Winn, who is the president of the county's Farmers Market Association and sells a wide selection from fresh eggs to vegetables to mums at the market. Winn has always gardened, but now that he's recently retired, he spends the majority of his time producing food.
"We try to make the safest, nutritious crop available to our customers," he said. "We also try to treat everybody fairly."
As a result of the growing market and a suggestion by the county extension council, the county's Farmers Market Association and Cooperative Extension Service are hosting a Farm to Fork event Aug. 11 to help introduce growers like the Winns to more consumers, further educate the public on local food production and grow the movement in this Western Kentucky county.
"We are just trying to promote local produce and tell people what we have to go through to be able to sell a good quality crop at the market," John Winn said. "We also want people to be aware that local food is a lot fresher, a lot more nutritious and a lot better for you."