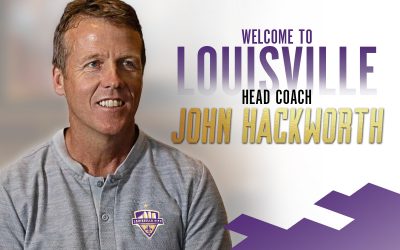 LOUISVILLE, Ky. (Aug. 2, 2018) — Louisville City Football Club has announced John Hackworth has been appointed the club's second-ever head coach and first-ever sporting director.
The 48-year-old coach signed a contract through 2020 and will be made available via phone conference with the media on Thursday afternoon.
Hackworth spoke with LouCity.com and was delighted for the chance to take charge of the growing club:
"I am honored and humbled but mostly just excited to join Louisville City FC," Hackworth said. "It is an opportunity to join one of the most prominent clubs in this country and work with a fantastic group of people who are like-minded in their approach to achieving success in every area we can.
"I would like to thank John Neace, Tim Mulloy, Mike Mountjoy, Brad Estes, and the whole of the LouCity ownership group for the trust and faith they are offering me to lead this team in the future. What the club has achieved to this point is remarkable and I will look to build on the winning mentality and culture that has already been established."
Announcing the appointment, LouCity chairman John Neace said: "We are delighted to announce John as our new coach. He has built an impressive coaching career to this point and we are excited by his obsession with winning and developing players. He embodies the commitment we all have for the club and we look forward to the impact of his work as we fulfill our shared ambitions in the years to come."
LouCity president Brad Estes said: "Hack comes in with an impressive amount of experience and success throughout his career and has helped develop and shape the abilities of some of our country's most exciting prospects. Those that know him have applauded his coaching acumen but his character is what we are most excited about as we take Louisville City FC forward."
Hackworth had been in charge of the U.S. U-17 Men's National Team since 2015 and has served as an assistant to the U.S. Men's National Team since the beginning of this year.
An experienced coach at the national level, Hackworth began with U.S. Soccer in 2002 when he first served as an assistant to then-U.S. U-17 Men's National Team head coach John Ellinger. Hackworth would go on to succeed Ellinger and lead the U-17's to finishes in the quarterfinals of the 2005 FIFA U-17 World Cup and Round of 16 in the 2007 FIFA U-17 World Cup. Following his time in charge of the U-17's, Hackworth also served as the inaugural Technical Director of the U.S. Soccer Development Academy.
Outside of his time with U.S. Soccer, Hackworth's experience extends to both the collegiate and professional levels of the game. He began as an assistant coach for the Wake Forest University women's and men's teams in 1993 and 1994. Hackworth was then named the head coach at the University of South Florida in 1998, where he led the Bulls to two NCAA Tournament appearances.
In Major League Soccer, Hackworth spent five years with the Philadelphia Union, serving as the club's youth development coordinator from 2009-12, and head coach from 2012-14 before returning to take charge of the U.S. U-17 Men's National Team.
Hackworth will rejoin the U-17's in Costa Rica and will join up with the "Boys in Purple" on Monday, August 13.