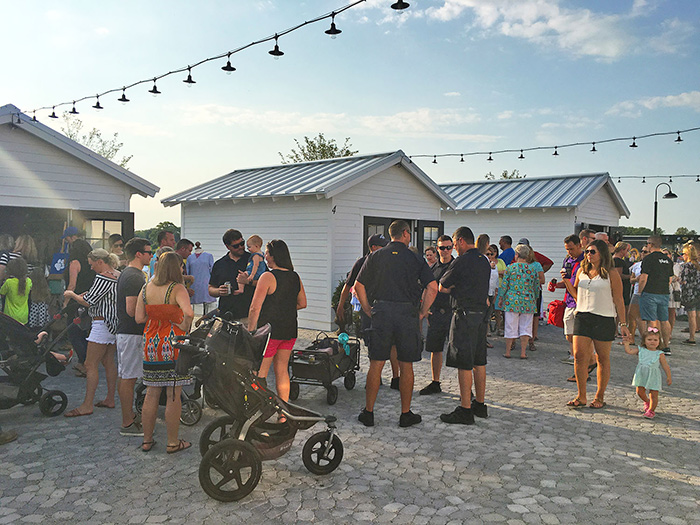 PROSPECT, Ky. (Aug. 8, 2018) — Norton Commons, the growing "new urbanism" development in Prospect, Ky. was joined Wednesday by Louisville Forward, Greater Louisville Inc. and the Louisville Small Business Development Center as they cut the ribbon on the community's new North Village Market, a project aimed at incubating local food and retailers.
The open-air market is located at 6301 Moonseed Street, just a stone's throw from the lakefront amphitheater, and includes six retail cottages. In addition, the space will serve as a staging ground for food trucks, farmers markets and a stage for performances by local artists.
"We're really pleased with how things turned out with the North Village and we're happy to continue our focus on local businesses and vendors," said Marilyn Osborn Patterson, marketing director and general counsel for Norton Commons. "Each Friday through Labor Day is our 'Food Trucks & Farmer Fridays', where from 4:30 p.m. to 8 p.m., we have local growers selling farm fresh products, great local microbrews, as well as local musicians hitting our new North Village Stage from 6 p.m. to 8 p.m. We are planning more events throughout the year."
Three businesses have opened in the North Village Market, including BLU Boutique, as well as children's boutique, Rabbit in the Moon and Spark Boutique, a women's apparel and accessories store. The boutiques are open 11 a.m.-7 p.m. Tuesday through Sunday. Three spaces are available, with options to lease for as few as 90 days.
Norton Commons consulted on the project with the celebrated planner and landscape architect Robert Gibbs, who has been profiled by the New York Times, the Wall Street Journal and The Atlantic, and is a leader in "new urbanism".
In April, Norton Commons announced plans to construct unique new amenities in the community's North Village including preliminary drawings for "The Grove", a 2.5-acre ridgetop recreational area, complete with a zero-entry, lagoon-style pool and splash park, playground, walking trails and a lush sunset viewing green. Additionally, developers unveiled plans for "Peppermint Green," a football field-sized civic space and green abutted by a covered breezeway replete with columns in the classical vernacular style.
Norton Commons broke ground on the North Village in 2015 and recently completed its 200th home in that section. When completed, Norton Commons' North Village will stand at over 1,500 homes.
Construction began in the Norton Commons South Village in 2003. The walkable mixed-use development includes over 65 business, the overwhelming majority of which are independent, including dozens of small shops, professional services, and specialty boutiques. Norton Commons also has a much-talked-about independent food scene, with nationally-recognized chefs serving up unique dishes from Latin street food fusion, to casual Italian trattoria and southern comfort food.
Sabak Wilson served as site designer and engineer for the North Village Market, is a total of 12,000 s.f.