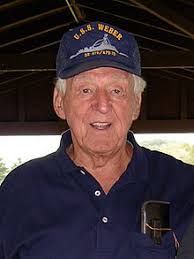 COVINGTON, Ky. (Aug. 9, 2018) — Former Kentucky State Rep. Bill Donnermeyer – one of the true and enduring architects of the region's multi-billion dollar tourism industry – will be honored and recognized Monday for 40 years as a member of the meetNKY | Northern Kentucky Convention and Visitors Bureau Board of Directors.
Donnermeyer, 93, a Bellevue Democrat who retired in 1994 after 25 years representing Kentucky's 69th House District, is not only starting his fifth decade on the meetNKY board but was also instrumental in the original formation of the CVB and a key backer of state funding to build The Northern Kentucky Convention Center. He will be recognized during the CVB's regularly scheduled board meeting in Covington.
"When you look back at the people and leaders who have helped build this wonderful community into what it is today, you look to Bill Donnermeyer," said meetNKY President & CEO Eric Summe. "His commitment and service to our board, to the tourism industry and to the community that he has served so well for so many years is an example of the selfless passion that he has exemplified throughout his entire life.
"It has been a true honor and pleasure to serve and work with Bill, who 40 years ago recognized what the tourism industry could be in Northern Kentucky, and set out to help make that happen," Summe said. "Looking at how far this industry has come, there is no doubt he succeeded."
Donnermeyer,  who was reappointed to the meetNKY board on Aug. 1 by Campbell County judge-executive Steve Pendery, said he is humbled and honored by the attention but maintained that "I'm just doing the job I was appointed to".
"Tourism has become a big business in Northern Kentucky, and there are a lot of people responsible for that," Donnermeyer said. "I proud to have been a part of it. It's hard to believe it's been this long!"
Donnermeyer was majority caucus chairman of the Kentucky House of Representatives in 1978 when he worked with fellow Northern Kentucky legislators Sens. Art Schmidt of Cold Spring and Don Johnson of Fort Thomas on sponsoring and passing legislation that created the CVB. He was then appointed to the board and has served ever since.
"There was a concern in the community at the time that the former tourism board needed more oversight and transparency," Donnermeyer recalled. "So we came together  to pass legislation to form a new board. Don and I were Democrats and Art was a Republican. But we didn't worry about parties as much back then. We worked together for Northern Kentucky."
Pendery, a Fort Thomas Republican,  has repeatedly reappointed Donnermeyer to the meetNKY Board even though they are from different political parties.
"Partisanship should never stand in the way of putting leaders and people in positions where they can make a difference," Pendery said. "Bill Donnermeyer not only had the vision and foresight to see what tourism could be in Northern Kentucky, but he continues to serve as a valued member of the board. It was an honor to once again appoint Bill to the board earlier this month."
In the early and mid-1990s, Donnermeyer worked closely with former state Sen. Joe Meyer – now the mayor of Covington – and the late Rep. Jim Callahan of Southgate among others on securing $30 million in state funding for the construction of the Northern Kentucky Convention Center, which opened in 1996.
In the 40 years that Donnermeyer has served on the board, tourism has become a booming industry in Northern Kentucky, generating $3.3 billion in visitor spending, $319 million in local and state tax revenue and nearly 14,000 jobs in 2017. All told, the tourism industry generates more than $5 billion on economic impact and supports more than 77,000 jobs.
Since Donnermeyer joined the board in August of 1978, a number of attractions in addition to the convention center have opened in Northern Kentucky including:
Newport on the Levee

Newport Aquarium

The Kentucky Speedway

The Creation Museum and Ark Encounter

The Hofbrauhaus

Northern Kentucky University's BB&T Arena

New hotels in Covington, Newport, Florence and elsewhere

Restaurant and entertainment districts in Newport, Covington, Bellevue, Florence and Fort Thomas
"Northern Kentucky has become a destination of choice, and one of the people who has helped make that happen is Bill Donnermeyer," said meetNKY Board Chair Jack Brandt, general manager of the Marriott Kingsgate Hotel. "Bill is a true leader and visionary who continues to build on his tremendous commitment to public service, to the tourism industry and to the people of Northern Kentucky."
"We have definitely had some achievements over the years," Donnermeyer said. "And, like any organization, we've had our challenges and adversity. But we worked through those and have built something we can all be proud of. Eric Summe and his staff do a wonderful job and with his leadership and team, the future is very bright."