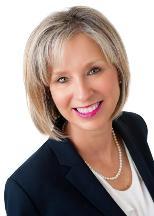 FRANKFORT, Ky. (Aug. 9, 2018) — Gov. Matt Bevin on Thursday appointed Kimberly Scott McCann, of Ashland, to the University of Kentucky Board of Trustees.
McCann is a veteran attorney, representing public school districts across the commonwealth as well as many small and large businesses. She also serves as an executive board member for Shaping Our Appalachian Region (SOAR) and on the board of directors for King's Daughters Medical Center.
After graduating from Eastern Kentucky University with a bachelor of science, she earned her juris doctorate from the University of Kentucky College of Law in 1986.
"I consider it a great honor to be asked to serve in this position and thank Governor Bevin for providing me with this opportunity," said McCann. "I look forward to being a part of the continued success of the University of Kentucky. "
McCann is active in community service endeavors, and is a recipient of United Way of Kentucky's Outstanding Kentucky Volunteer Award. In 2009, she was named Northeast Kentucky's Legal Services Advocate of the Year.