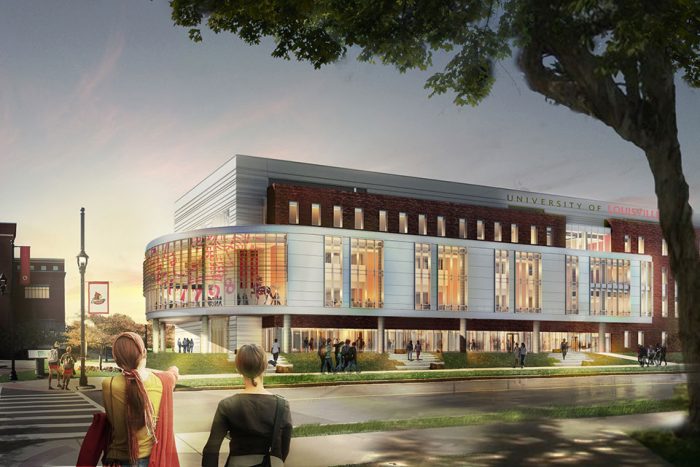 LOUISVILLE, Ky. (Aug. 14, 2018) — Addressing a longstanding need for more and better classroom space, the University of Louisville on Tuesday opened its new, 165,000-s.f. Belknap Academic Building.
The four-story, $80 million facility, located along South Brook Street between the Shumaker Research Building and Lutz Hall, contains more than 50 classrooms, laboratories, seminar rooms and group study areas. It also includes common areas where students can interact with their classmates.
Additionally, the building houses the university's Student Success Center, where students receive services that will help them to thrive in the classroom and beyond.
"UofL has long needed more high-quality classroom space to better serve our students," said UofL President Neeli Bendapudi. "I'm pleased to say this new building addresses that need. This $80 million project, funded entirely with state money, provides state-of-the-art space for our students to learn, to engage their professors and to relax and catch up with their friends. In addition, the services offered in this building—tutoring, mentoring and advising—will help ensure our students are on the path to success."
Construction of the academic building began two years ago on the site where the legendary Crawford Gym once stood. In a nod to the past, the first-floor benches in the new building are made of wood recycled from the Crawford Gym floor.
The new building primarily will serve undergraduate students, particularly those taking courses in the College of Arts and Sciences. It has labs dedicated to anthropology, biology, chemistry and physics.
The building's technology-rich spaces are designed to foster innovative and active learning methods proven to promote student engagement. Services offered in the facility make it a one-stop academic shop for UofL students.