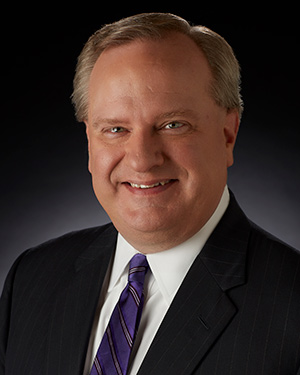 LEXINGTON, Ky. — Palmer "Gene" Vance II, a partner with Stoll Keenon Ogden, has officially accepted 'the gavel' as the 2018-19 chair of the American Bar Association Section of Litigation. In this role, Vance leads the nearly 50,000 litigators, judges and arbitrators who comprise the largest section of the ABA.
A native of Paintsville, Ky., Vance acknowledged in remarks at the ABA's Annual Meeting in Chicago, being the first attorney from a small city to lead the Section: "It really is humbling to stand in front of you and to take on this role. When I look at the list of my 45 predecessors, it is very easy to wonder why someone who grew up in a town of 5,000 people in the Appalachian coalfields, graduated high school in a class of 57 and was the first person in his family to attend college, is now adding his name to a roster that includes some of the foremost trial lawyers in our profession, name partners in some of the most prominent firms in the country, a former Attorney General of the United States, two United States District Judges, four presidents of the American Bar Association), and the holders of countless other leadership positions.
"I am keenly aware that there has never been a chair of the Section of Litigation from a place as small as Lexington, Ky.—and 300,000 people is not really that small. But, it calls to mind that most litigation in this country does not occur on the coasts, in the cities or within the halls of the AmLaw100. Most litigation is conducted by solo and small firm lawyers in smaller cities and towns. As a few of you have heard me say, many of the best trial lawyers in this country are in places like Riverton, Wyoming, Lincoln, Nebraska, Evansville, Indiana, and yes, London, Kentucky."
Vance's initiatives as chair include focusing on delivering member benefits to solo and small firm litigators, continuation of the Section's Children's Rights Litigation Committee, and improving lawyer well-being through its Mental Health & Wellness Task Force.
During Vance's term, the Section will host its second LGBT Forum focusing on issues relating to the community and LGBT litigators, as well as the Professional Success Summit, a conference focusing on networking and advancement for racially and ethnically diverse litigators.
He will also stress the group's commitment to diversity and inclusion as reflected in its sponsorship of the ABA Initiative on Achieving Long Term Careers for Women in Law and the Judicial Intern Opportunity Program designed to place diverse law students with judges for summer clerkships.
"What Gene has achieved in this leadership role with the ABA is noteworthy and remarkable on many levels," said SKO Managing Director P. Douglas Barr. "People generally don't think of Kentucky as the most obvious place to look for exceptional leaders and lawyers. In the 23 years I've known him, he's proven himself to be both. He's earned this honor, and we could not be more proud of his accomplishments as our friend and partner."