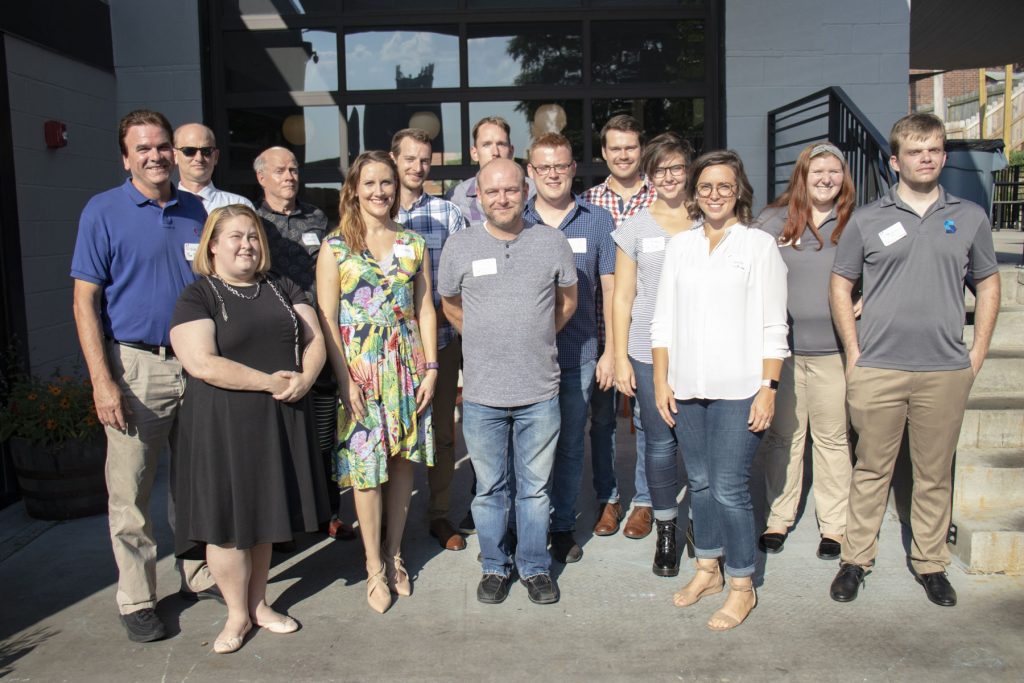 LOUISVILLE, Ky. – Six local startups are 2018 Vogt Awards recipients. Each winner will receive $25,000 in non-dilutive funding and an additional package of valuable services and mentoring for early-stage entrepreneurs.
The winning companies are:
Agent Ally– Saving Medicare insurance agents time, providing personalized plan results, and talking points tailored to their clients through the Agent Ally Enrollment Solution. Co-founders include Michael Wiseman, Johnathan Vanderford, Erin Stewart and Ben Browne.
Dry Baby – Manufacturing and distributing one-of-a-kind water and stain repellent baby apparel. Co-founders include Jennifer Chapman and Katherine Wardlaw.
Enriched Couples – Assisting young couples to navigate merging their finances by using a mix of behavioral science interventions. Co-founders include Annette Miller and Michael May.
Pascal Tags – Using patent technology to track inventory with smart, passive, and battery-free tags that can continuously span through any size space. Co-founded include Brandon Young and Haley Pfeiffer.
Sport.io – Providing cloud-based SaaS solutions for race organizers to engage with athletes and streamlining the management of race registration, payments, communication, and results. Co-founders include Abner Miralda and Jason Eisenmenger.
True Secure SCADA – Strengthening the cybersecurity of critical infrastructure systems with the patented SCADA-GuardTM for utility and manufacturing companies. Co-founders include Jim Graham, Jeff Hieb and John Naber.
The Vogt Awards helps startup founders develop product ideas into viable and successful businesses by providing not only funding but also dedicated mentorship and focused workshops.
"We have refined our programming this year to provide the most valuable information for these six companies," Ellie Puckett, commercialization director for EnterpriseCorp, said. "Each company has incredible potential, but limited resources. We want to make sure they are using their time in the best way possible to accelerate their growth."
Henry Vogt Heuser Sr., who established the Vogt Invention & Innovation Fund at the Community Foundation of Louisville, had a strong vision for growing innovation in Greater Louisville. Heuser pioneered the creation of multiple inventions during his career. The Vogt Invention & Innovation Fund, an endowment at the Community Foundation, was created to help support the entrepreneurial efforts of engineers and innovators to fund the product development and commercialization of their ideas.
"Since 2000, more than 60 companies have received over $3 million in cash awards, plus countless hours of mentoring support, fueling the Louisville entrepreneurial community and supporting our mission of creating a thriving community," said Susan Barry, president & CEO, Community Foundation. "I can't help but think how proud Mr. Heuser would be of the innovation these award winners are bringing to life."
"The Vogt Awards are a great example of how we, as a community, encourage bold and creative thinking and action," said Mayor Greg Fischer. "The companies being honored have shown tremendous promise, and I'm eager to see that promise become reality."
EnterpriseCorp will conduct the Vogt Awards' mentoring programming throughout the fall, during which the Vogt Award winners are introduced to a wide range of mentors and experts in Louisville's business community, who dedicate more than 300 hours of unpaid consultation to enhance the benefits provided by the generous grant from the Vogt Invention & Innovation Fund.
Vogt Awards Demo Day will be held in November during Global Entrepreneurship Week and each winner will have the opportunity to showcase their business to the community and share the progress they are making thanks to the funding, collaboration, mentorship, and support services.
For more information, visit http://www.vogtawards.com/.