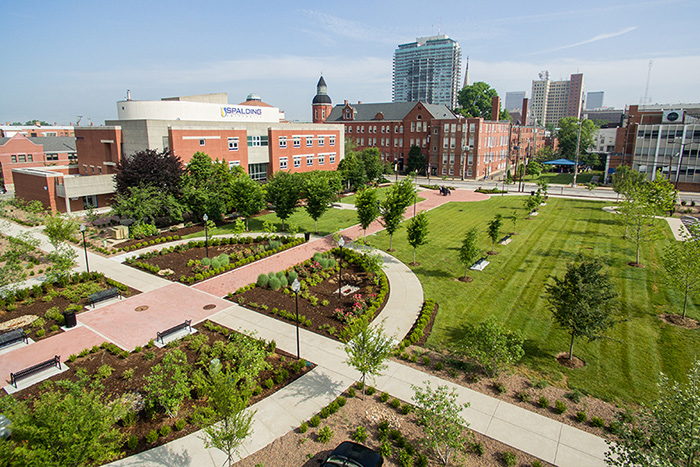 LOUISVILLE, Ky. — Spalding University announced Wednesday that it has reached a milestone in its ongoing, largest-ever capital fundraising campaign: surpassing $30 million in total contributions since 2014. They have supported new construction projects, facility improvements and academic and scholarship programs that broadly impact campus and student life.
The $30.4 million raised to date is a record for a Spalding campaign, and it far outpaces the original fundraising goals – $20 million by 2020 – set by the university's board of trustees when it voted to launch the campaign four years ago. The goal was officially upped to $30 million in 2016.
"We are extremely grateful for the individuals and organizations who have stepped forward in support of our campaign and the mission and progress of Spalding," Chief Advancement Officer Bert Griffin said. "We've made improvements all over campus and have not used any tuition dollars to make it happen."
Spalding President Tori Murden McClure added: "Through this campaign, we have provided our students and the community with more resources and services while making our campus greener and more beautiful. We are grateful to our many partners who are helping us meet the needs of the times and change our community for the better."
Some highlights of the $30 million capital campaign:
● Nearly $11 million in student scholarships and fieldwork stipends have been or will be distributed by way of the campaign, including more than $4 million in federal grants for clinical psychology and social work students from the Health Resources and Services Administration.
● More than $7 million has been donated or pledged in support of a greening initiative that has beautified the 23-acre downtown campus. Completed projects include the Mother Catherine Spalding Square green space on West Breckenridge Street between South Third and South Fourth and 2.2-acre Trager Park, which, in partnership with Louisville Gas and Electric Company and the Trager Family Foundation, opened last fall at the corner of South Second and West Kentucky. The Trager Park site was formerly an unused asphalt lot.
Ongoing outdoor projects are the seven-acre athletic fields complex between South Eighth and South Ninth streets that will be the home of Spalding's NCAA Division III softball and soccer teams, and the Contemplative Garden at Spalding University, which will be a meditation space at 828 South Fourth Street that is designed to honor Trappist monk Thomas Merton and the Dalai Lama.
Thanks to a recent anonymous $500,000 challenge grant, installation of the playing surfaces at the fields complex is expected to begin this fall, and it could be ready for competition by late spring 2019.
● Kosair Charities has contributed more than $1.2 million to Spalding in support of the Kosair Charities Enabling Technologies of Kentuckiana (enTECH) assistive-technology resource center, the Auerbach School of Occupational Therapy and the Spalding School of Nursing.
● A $500,000 challenge grant from the James Graham Brown Foundation has helped raise $1 million to develop programs focused on restorative justice and restorative practices as well as Spalding's Center for Behavorial Health.
● Nearly $1 million was raised to renovate the lower level of the Columbia Gym into a student fitness center and lounge.
● Other facilities that have undergone major improvements and modern updates are the Republic Bank Academic Center, which is the home of Spalding's nursing and social work programs; the Spalding Library; the historic Tompkins-Buchanan-Rankin Mansion; and the Egan Leadership Center Lectorium.