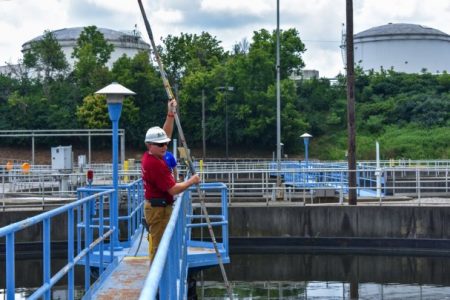 LOUISVILLE, Ky. — Kentucky has an abundant supply of water – sometimes too much. So it may seem like Kentuckians need not worry about water use as much as those living in drier areas such as California or Arizona.
That is not necessarily the case.
At the next Beer with a Scientist, Robert Bates, a water expert and nearly 30-year employee at Louisville Metro Sewer District, will explain that, while it is plentiful here in Kentucky, water still is a precious commodity and recycling it makes sense. He will discuss water recycling in the United States, the "Louisville water cycle" and how some local organizations are recycling water to make beer.
Now an operations specialist with GRW, an engineering consulting firm based in Lexington, Ky., Bates was in operations management for more than 10 years at MSD's Morris Forman Water Quality Treatment Center, the largest wastewater treatment facility in Kentucky. He also is a past president of the Water Environment Association of Kentucky/Tennessee (WEAKT) and has co-written several peer-reviewed scientific publications on wastewater.
"There is no new water, so the more we can do to protect this most vital resource, the better," Bates said. "Plus, no water, no beer!"
His talk begins at an earlier time and new location: 7 p.m. on Wednesday, Oct. 17, at Holsopple Brewing, 8023 Catherine Lane, Louisville. A 30-minute presentation will be followed by an informal Q&A session.
Admission to this popular event, organized by Louisville Underground Science, is free. Purchase of beer, other beverages or menu items is not required but is encouraged.