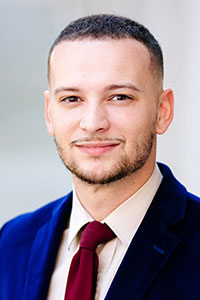 LEXINGTON, Ky. — Cameron Jones has been named sales manager of the Lexington Marriott City Center and Residence Inn Lexington City Center.
Jones brings more than 13 years' experience in the hospitality industry.
"We are excited to have Cameron a part of this team, his knowledge in extended stay hotels and hospitality will be a wonderful attribute to our team," said Courtney Jones, director of sales and marketing for the city center hotels.
Jones grew up in Maysville, Ky. and began his hospitality career as a building manager at the University of Kentucky Student Center. He worked in the industry through school and studied as an English major with a minor in sociology at the University of Kentucky.
After college, Jones worked in hotel network management for Creative Lodging Solutions. Since then, Jones has been a director of sales and marketing with Intercontinental Hotel Group, Hilton Hotels & Resorts and is now joining the Marriott family of brands all in Lexington, Ky.
Jones has been a board member for the Bluegrass Tourism & Marketing Association and recently assisted his Hilton property obtain two consecutive Lighthouse Awards indicating Top 5% of Customer Service nationwide.
Additionally, Jones is locally known as a spirited community service leader having volunteered to lead Lexington's popular "Thriller & Halloween Parade" for six years.
Having served NorthStar Hospitality for over a year as a director of sales and marketing at the Hampton Inn Lexington Medical Center, already, Jones said "I am honored to work for such an amazing company and I look forward to reaching new heights at a full service, brand new, dual property in the heart of a city that I love so much."
Jones has lived in Lexington since 2008.