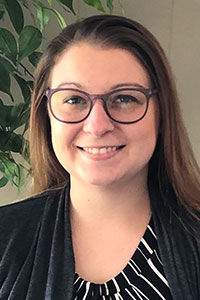 LEXINGTON, Ky. — The Kidney Health Alliance of Kentucky Board of Directors announced Wednesday that Chelsey Keesy has been named executive director of the nonprofit, which works to serve kidney disease patients and their families, increase awareness and early detection of chronic kidney disease, provide a network for collaboration among renal healthcare providers and promote organ donation.
Keesy started her relationship with KHAKY a few years ago when she became more curious about her family history of polycystic kidney disease and discovered KHAKY when researching local nonprofit organizations. The previous director of 15 years, Pat Ham, welcomed her in for a conversation and Keesy became a volunteer, assisting with data entry and eventually grant applications.
Keesy's background has been in the nonprofit sector, working in volunteer, program and grant management. Her most recent position was the development director at Radio Eye, raising grant funds by 52%, and online giving challenges, KY Gives Day and Good Giving Challenge funds by 224% and 210% respectively.
She has also been a member of the Grant Professionals Association since 2017 and currently holds the position of secretary in the Kentucky Chapter.