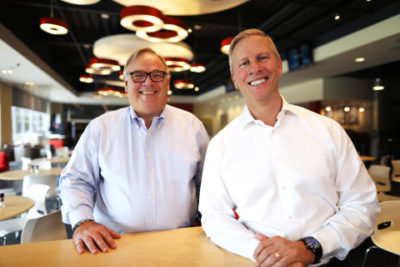 LOUISVILLE, Ky. (BUSINESS WIRE) — Yum! Brands, Inc. announced Monday that its board of directors unanimously elected David Gibbs as chief executive officer, effective Jan. 1, 2020, and appointed him to the company's board, effective Nov. 1, 2019.
Gibbs, 55, who currently serves as Yum! Brands president and COO and oversees the global KFC, Pizza Hut and Taco Bell divisions, will succeed Greg Creed, 62, who has announced his decision to retire at the end of 2019 after a successful 25-year career with the company.
"I've had the privilege of partnering with our franchisees to grow the three iconic brands within the Yum! Brands portfolio for over 30 years and am honored to follow in Greg's footsteps," Gibbs said. "It's thanks to Greg's terrific leadership and innovative brand building during some of the most pivotal moments in our history that Yum! Brands has emerged as a vibrant and industry-leading growth company. I'm grateful that Greg and I have had the good fortune to build on the legacy of our co-founder David Novak — a strong foundation of three iconic brands and the positive recognition culture he established after our company's spinoff from PepsiCo in 1997."
Creed has served as Yum! Brands CEO since January 2015. As CEO, Creed successfully executed the 2016 spinoff of Yum China, led Yum! Brands' transformation to become more focused, franchised and efficient, and helped the company deliver strong and consistent financial performance to shareholders. Since 2017, Yum! Brands has transformed its business model to over 98 percent franchised, while increasing G&A efficiency and significantly reducing capital expenditures. Before his time as Yum! Brands CEO, Creed led the global Taco Bell Division as its Chief Executive Officer and was responsible for transforming the brand into the iconic and innovative industry leader it is today.
"It has been an incredible journey at Yum! Brands during the past 25 years and my absolute privilege to serve as CEO during such an exciting time for our company," said Creed. "No other retailer in the world is like Yum! Brands, with our iconic global brands, category leadership, massive scale and uniquely diversified portfolio. I'm proud of how we're emerging from our multi-year transformation as a more focused, franchised and efficient growth company. The best of Yum! is still to come and I'm delighted we have an exceptional leader like David who will drive the next wave of growth for our company."
Creed remains CEO through the end of 2019 to ensure a smooth and seamless transition. He will serve as a part-time advisor next year and also remain on the Yum! Brands Board of Directors.
"Greg Creed is one of the most talented and passionate brand builders in the restaurant industry today," said Brian Cornell, non-executive chairman of the Yum! Brands Board of Directors and chairman and CEO of Target Corp. "On behalf of the board of directors, I want to sincerely thank Greg for his focus on building great brands, strengthening franchise capabilities, expanding the company's global footprint and leveraging Yum! Brands' world-class culture and talent to fuel results."
Cornell continued, "The board and I are confident that David Gibbs is the ideal leader to drive the next chapter of global growth for the company. He has played a central role in all that Yum! Brands has accomplished over the past several years and understands the need to put customers, employees, franchisees and shareholders at the center of everything. David will build on the company's position of strength to ensure it is well equipped for the future."
As Yum! Brands CEO, Gibbs will assume responsibility for the company's overarching strategies, structure, people development and culture and will focus on driving global growth and sales and profitability at all Yum! franchise businesses worldwide. The following Yum! Brands leaders will report to Gibbs effective Jan. 1, 2020: Chris Turner, CFO; Tracy Skeans, chief transformation and people officer; Scott Catlett, general counsel and corporate secretary; and Ken Muench, collider lab chief strategy officer and co-founder. In addition, the global brand division CEOs will continue to report to Gibbs including: Tony Lowings, KFC Division; Mark King, Taco Bell Division; and Artie Starrs, Pizza Hut Division.
Of Gibbs, Creed said, "David is an outstanding commercial leader with a passion for Yum! Brands' global business, brands and people. He has been an invaluable strategic partner to me during our transformation and instrumental in shaping our global strategy, accelerating the pace of global new unit development, executing our transformation goals and laying a strong foundation for future growth. Importantly, David lives and breathes our people-first culture and is determined to take it to the next level. I look forward to cheering on David and everyone at Yum! Brands as a friend, loyal customer and shareholder."