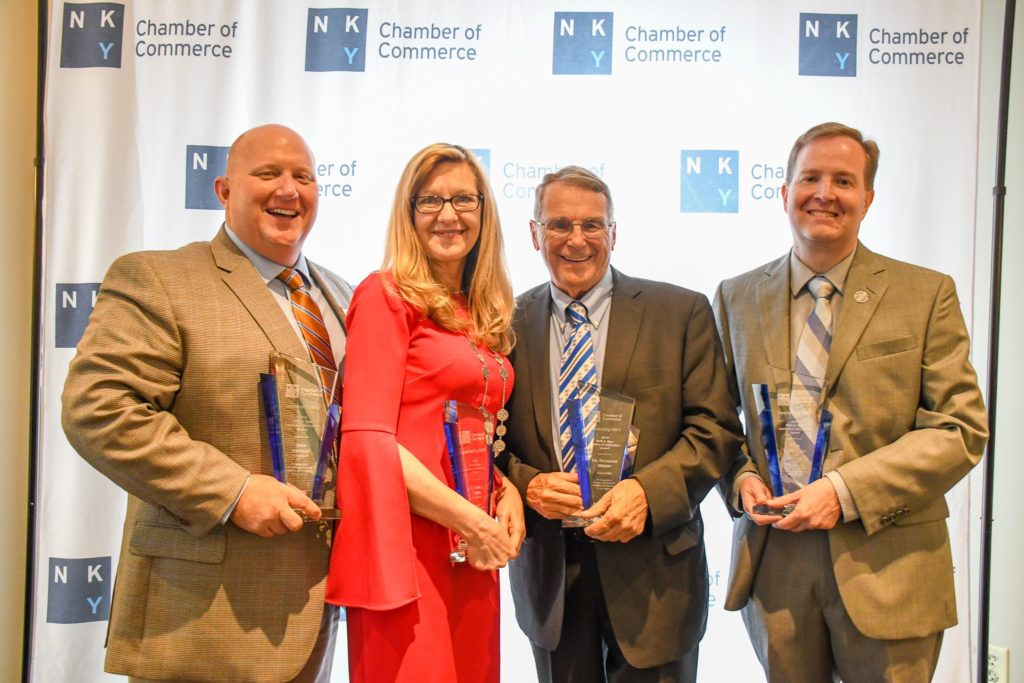 FORT MITCHELL, Ky. — In celebration of the 40th anniversary of the Leadership Northern Kentucky program, the Northern Kentucky Chamber of Commerce (NKY Chamber) has announced the recipients of the Ruth A. Eger Leaders of Distinction Award:
Karen Cheser – superintendent – Fort Thomas Independent Schools (Leadership NKY Class of 2012)
Karen Cheser, Ed.D., is superintendent of Fort Thomas Independent Schools and was formerly deputy superintendent/chief academic officer of Boone County Schools. Cheser has been instrumental in bringing innovation, student agency, and a focus on workforce to Northern KY through such projects as the NKY MakerSpace (with the LNK Class of 2015), Ignite Institute, Launch at 20 Grand, LEGO League Robotics and the NKY Entrepreneurship Council. Cheser is national vice-chair of EdLeader21, a member of the CoSN National Superintendents' Panel, chair of the Leadership NKY Council, GROW NKY Pillar 2 lead, and serves on the NKY Chamber of Commerce Executive Committee, Greater Cincinnati STEM Collaborative Advisory Council, Greater Cincinnati Service Learning Executive Committee, NKU's Community Engagement Board and has been the co-chair of NKY Education Council's College and Career Readiness Coalition for 10 years. She was the 2016 Toyota/ Storer Business Collaboration Award winner, a 2015 AASA National Woman Administrator of the Year Award finalist, Vision 2015 Champion of Education, a 2015 Outstanding Woman of NKY, KY District Administrator of the Year (2013), and A.D. Albright Outstanding Administrator (NKY Chamber of Commerce, 2009).
Dr. Raymond Hebert – professor – Thomas More University (Leadership NKY Class of 1995)
Dr. Ray Hebert, in his 45th year at Thomas More College/University, is currently professor of History, executive director of the William T. Robinson III Institute for Religious Liberty, immediate past director of the Gemini Duel Credit Program and dean of the University Emeritus. He has spent 14 years as vice president for Academic Affairs and dean of the College, 14 as Department chairperson for History, International Studies and Political Science, 10 as the director of the James Graham Brown Honors Program, and seven as the director of Gemini Dual Credit Program. Dr. Hebert has multiple teaching awards and "Lifetime Achievement" from the Northern Kentucky Education Council and the Thomas More Alumni Association and was a recipient for a Behringer Crawford Museum Two-Headed Calf Award for Education in 2016. Most recently, in 2018, the TMU Academic Affairs Division created a legacy award named in his honor and he was designated the first recipient of the "Dr. Ray Hebert Faculty Service Award."
Jude Hehman – CEO – Furlong Building, mayor – City of Fort Mitchell (Leadership NKY Class of 2013)
Furlong President and CEO, Jude Hehman, has 19 years of experience as an entrepreneur in the construction and building services industries. Hehman's extensive project experience ranges from small renovations to major additions and new buildings in the medical, commercial, big-box warehouse and heavy industrial sectors. Committed to public service, Hehman served for 10 years on the Ft. Mitchell KY City Council and is currently the elected mayor of Fort Mitchell. He is the elected chair of the Kenton County Mayor's Group and serves on the executive board of OKI and on the board for the Kentucky League of Cities. He also serves on the Board of Directors for Highland Cemetery. Hehman was named to the 2013 Business Courier's Forty Under 40 List of Business Leaders, distinguishing himself in the workplace and community. He has led his company to the Business Courier's Fast 55 award in 2013 and again 2015, Tri-State Success awards in 2012 and 2013, and Emerging 30 in 2014.
Dave Schroeder – executive director – Kenton County Public Library (Leadership NKY Class of 2008)
Dave Schroeder is a native of Ludlow, Kentucky. He was named executive director of the Kenton County Public Library in April 2007. Schroeder is president of Board of the Friends of the Kentucky Public Archives, is chairperson of the Kentucky Public Library Association Advocacy Committee, is a member of the Northern Kentucky Workforce Investment Board and serves on several Northern Kentucky Chamber committees. He is a past member of the Kentucky Archives and Records Commission (2007-2018), past chair of the Kentucky Public Library Association (2011) and past president of the Kentucky Library Association (2017). He is the author of Life Along the Ohio: A Sesquicentennial History of Ludlow, Kentucky (Little Miami Press 2014), co-editor of Gateway City: Covington, Kentucky, 1815-2015 (Clerisy Press 2015) and co-author of Lost Northern Kentucky (History Press 2018).
Nominated by fellow Leadership Northern Kentucky alumni, each of the award recipients are individuals who have made notable contributions towards the advancement of the Northern Kentucky community since participating in the Leadership Northern Kentucky program. Past award recipients have included:
Gary Bricking
Ted Bushelman
Helen Carroll
Carri Chandler
Kathy Collins
Brent Cooper
Robert Coughlin
Jeff Eger
Ruth Eger
Bob Elliston
Lee Flischel
Donald Fritz
Chris Goddard
Mike Hammons
Paul Hemmer
Robert Hoffer
Molly Navin
Thomas Prewitt
Lisa Raterman
Rick Robinson
Dale Silver
Rhonda Whitaker
"With more than 1,300 alumni, selecting recipients of this award is not an easy task," said Dawn Denham, executive director of Leadership Northern Kentucky. "The four alumni chosen this year are leaders who have made a significant impact in our region. They are champions for Leadership NKY, our mission, and the Northern Kentucky community."
The Ruth A. Eger Leaders of Distinction Awards were presented on Friday, Aug. 2, 2019, in conjunction with the Leadership Northern Kentucky 40th Anniversary Alumni Luncheon. To learn more about Leadership NKY visit www.nkychamber.com/LNK. Leadership NKY is powered by Citi.