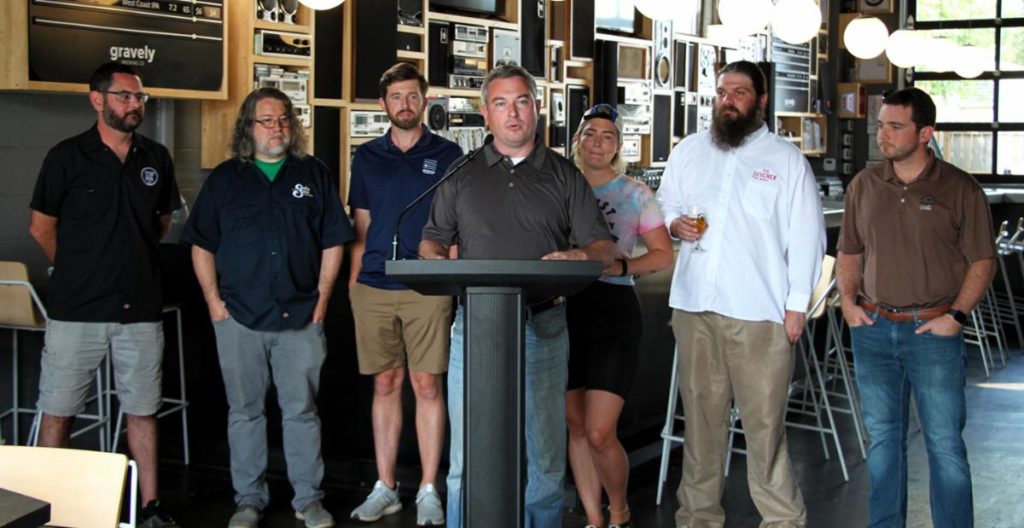 LOUISVILLE, Ky. — The Kentucky Proud Beer Series will be bigger and better than ever in 2019 with a beer festival in Newport and six Kentucky Proud paired beer dinners in October, Agriculture Commissioner Ryan Quarles announced on Tuesday.
"Every October, Kentucky's craft brewers use Kentucky Proud products to brew one-of-a-kind beers to showcase their creativity and honor the Commonwealth's producers," Commissioner Quarles said. "We are pleased to collaborate with the Kentucky Guild of Brewers on what has become a staple of Kentucky's fall calendar."
"We are thrilled to partner again with the Kentucky Department of Agriculture to develop over 20 beers that highlight the wonderful products that Kentucky's farms have to offer," said Derek Selznick, executive director of the Kentucky Guild of Brewers.
Participating Kentucky craft brewers will release special beers infused with Kentucky Proud products on Oct. 18. The Kentucky Department of Agriculture (KDA) worked with the guild to match craft brewers with Kentucky Proud producers to create the limited-release beers.
The Kentucky Proud Beer Festival is set for Oct. 19 at Wooden Cask Brewery in Newport. Participating craft breweries will serve their Kentucky Proud beers at the event. Kentucky-sourced foods will be provided by the Farmstand Café and other providers. Tickets are $25 for VIP admission (limited to 250) and $10 for general admission. Tickets include a commemorative Kentucky Proud tasting glass and two 8-ounce samples. More samples are available for purchase.
Six Kentucky Proud paired beer dinners are scheduled Oct. 14-17 in various locations across the Commonwealth. The dinners will consist of locally sourced foods matched with beers from the Kentucky Proud Beer Series.
Brewers participating in the 2019 Kentucky Proud Beer Series include 3rd Turn Brewing, Against the Grain Brewery, Falls City Brewing Co., Gordon Biersch Brewery, Gravely Brewing Co., Holsopple Brewing, Monnik Beer Co., and Old Louisville Brewing, all of Louisville; Fusion Brewing, Lexington Brewing Company, and West Sixth Brewing, Lexington; Alexandria Brewing Company; Bircus Brewing Company, Ludlow; Braxton Brewing Co., Covington; Country Boy Brewing, Georgetown; Darkness Brewing, Bellevue; Flywheel Brewing, Elizabethtown; Jarfly Brewing Co., Somerset; Paducah Beer Werks; Sig Luscher Brewery, Frankfort; and Wooden Cask Brewing Company, Newport.
For more information about the 2019 Kentucky Proud Beer Series and Festival, go to kygbrewers.org.