By Chris Cathers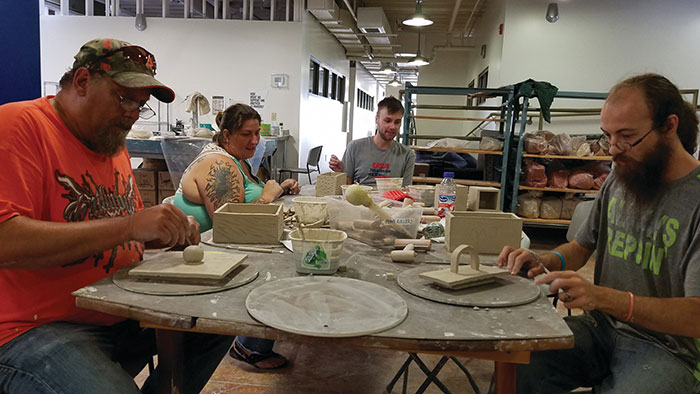 In March, Spotlight on the Arts focused on an arts-based substance abuse recovery program called Hands Healing HeArts in Franklin County. This month, we're traveling east to Knott County to talk about a similar program called Culture of Recovery.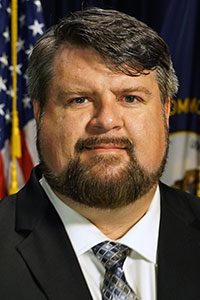 Culture of Recovery gets referrals from the county drug court, and also works with a nearby men's residential facility, the Hickory Hill Recovery Center. Culture of Recovery program participants take part in painting, ceramics, journal writing, blacksmithing, stringed instrument making and other classes that act as supplements to a traditional substance abuse recovery program.
We recently traveled to Hindman to record an episode of the Kentucky Arts Council podcast KyArtsCast and talked with participants and instructors in the Culture of Recovery program. This Spotlight on the Arts column features excerpts from that conversation.
Savannah Napier Hall of the Appalachian Artisan Center is the program coordinator for Culture of Recovery. She said the program is – especially for the men coming from Hickory Hill – a way to decompress and not have to talk about their addiction for a while.
"We just present them with art and they have the opportunity to let those feelings go for a while," Hall said.
Two participants in the program, Kim Patton and Nathan Smith, have latched onto the skills they've learned in Culture of Recovery so much that they are now making a living off of their chosen art forms.
Patton gravitated toward pottery. She's made about 150 pieces since she started in the program in March of 2018. She was initially apprehensive about participating in the recovery program, but after spending a month experimenting with various art forms, her tune changed.
"After a month, it was totally different," she said.
Patton started doing drugs when she lived in Cleveland. When Patton's mother made her move back to Kentucky and in with her alcoholic father, things did not get better. She soon married an alcoholic and her life got worse, she said. She started going to a pain clinic, getting pills. Soon, Patton said, she was selling drugs to feed her own habit. She was eventually arrested for trafficking. She got into the Knott County Drug Court program, which led her to Culture of Recovery.
"It saved me," Patton said.
---
IT'S FREE | Sign up for The Lane Report email business newsletter. Receive breaking Kentucky business news and updates daily. Click here to sign up
---
She has since started selling her work at several regional fairs, like Hillbilly Days in Pikeville and Thursdays on the Triangle in Hazard. The inspiration came one day when she was visiting Knott County Drug Court, dropping off pieces of her ceramic artwork as gifts for some of the staff members and the drug court judge.
"The judge said, 'These are really good. You should start selling these,'" Patton said. "That was the approval I needed – someone to tell me I was good enough to do it."
Smith said his story of addiction was similar to Patton's.
"I did whatever I could to fit in," Smith said. "Drinking, smoking marijuana. Over the years that led to other things."
At one point, he got hurt and was prescribed pain pills, which he said started him down the path of opioid addiction. Like Patton, he sold drugs to feed his addiction, and that led him to drug court.
"I asked for drug court. I knew I needed something to change my life. If I didn't, I wouldn't want to be here long."
Smith found a sense of purpose in Culture of Recovery, where he learned the craft of luthiery, the creation of stringed instruments.
"What did it for me was I knew I could come in here and they didn't look at me any different or judge me because I was an addict," Smith said. "It feels good to have a place I can go and make myself at home."
Smith has become so good at luthiery that Doug Naselroad, master luthier at the Appalachian School of Luthiery in Hindman, has hired Smith for a full-time position at the newly opened Troublesome Creek Stringed Instrument Co., which Naselroad also directs.
"We have the place and opportunity for people to be gainfully employed, with no discrimination against people who may have a drug felony on their sheet," Naselroad said. "We do not disqualify."
Getting that job based on skills he learned in addiction recovery is "one of the best feelings in the world," Patton said.
"It's something you don't just pick up every day. I'm happy they gave me this opportunity. It's amazing."
To hear the full podcast episode, visit kyartscast.ky.gov.
---
Chris Cathers is executive director of the Kentucky Arts Council.