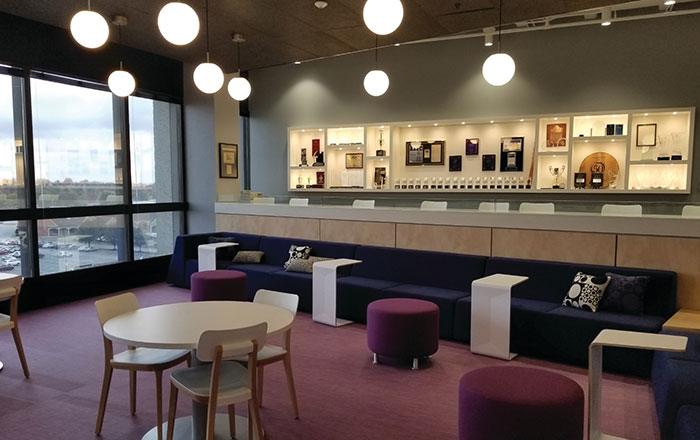 Along I-64, between the inner I-264 and outer I-265 belts of Louisville and Jefferson County Metro, the independent city of Jeffersontown is all about jobs. Make that JOBS: Jeffersontown Occupation Business Savings. The program allows the city council to approve incentives equal to 50% of the occupational tax that a project generates, for a period of years. Five companies have taken advantage of the JOBS program in the last year: HB Molding, the Kleingers Group, KLM Mechanical Services, Mortenson Family Dental and Wilson Controls. There's also the Jeffersontown Projects to Improve Exteriors (PIE), a grant program for business property owners to improve the façade of their buildings and get reimbursed 25% for those expenditures, up to $5,000.

As of May, the Jeffersontown Economic Development Authority, or JEDA, is seeking development proposals from the private sector for a JEDA-owned block off Gaslight Square District.
"We're hoping for a mixed use development, but will consider a boutique hotel, office or retail environment," said Mike Kmetz, director of JEDA. "We want the development community to assist us in determining the highest and best use for the property."
The light industrial vacancy rate in Jeffersontown is 1.8% (an unheard-of low) and companies employ an average of 20 people.
"With almost 1,800 registered businesses employing 38,000 people, we're very diverse," Kmetz said.
The analytics company Appriss is headquartered in town, as are Papa John's International, PharMerica Corp., Signature HealthCARE and Statewide Mortgage, among others.
With a variety of industry sectors in the city, a comfortable transportation network for employers and employees, and excellent quality of life factors, Jeffersontown provides "a thoughtful and innovative work environment," Kmetz said. "We bill ourselves as the largest diversified employment center in the Commonwealth of Kentucky."
Mayor: Bill Dieruf; jeffersontownky.com
Estimated 2019 population: 27,997
No. of households: 11,153
Median household income: $66,556
The Chamber Jeffersontown: John Cosby, president; jtownchamber.com
Jeffersontown Economic Development Authority: Mike Kmetz, director