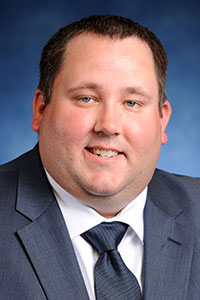 LEXINGTON, Ky. — Kentucky American Water has announced Thursday the appointment of Justin Sensabaugh as senior manager of operations for Kentucky American Water. Sensabaugh will report to David Farrar, vice president of operations for Kentucky American Water.
In this position, Sensabaugh will lead the field operations and production functions for the company's Central Division, including maintenance and repair, field services and meter operations.
Sensabaugh, a native of London, Ky., joined Kentucky American Water in 2008 as a water treatment plant operator and has since held roles of increasing responsibility within the operations department, including supervisor, superintendent and manager.
Sensabaugh holds a bachelor's of business administration degree and master of business administration degree from Midway University. He holds industry certifications in water treatment and distribution (class IV), wastewater and collections (class I), and is licensed in backflow prevention. Sensabaugh also serves on the board of East Kentucky PRIDE and is a member of the Kentucky Division of Water's Drinking Water Advisory Council.
Sensabaugh and his wife, Leah, have two young children and live in Lexington.