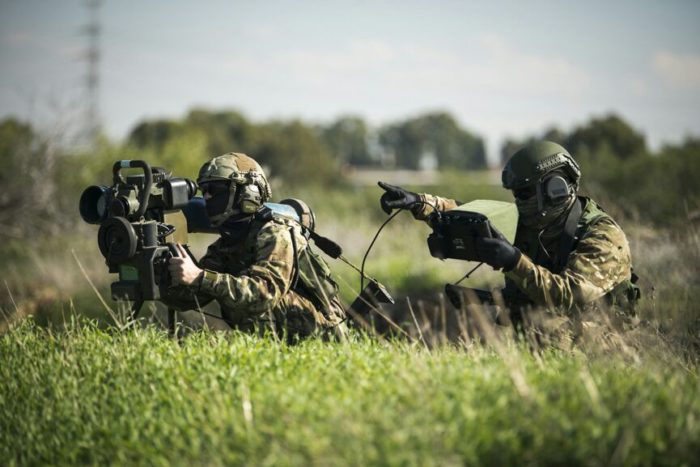 STEARNS, Ky. — Gov. Matt Bevin Thursday joined Congressman Hal Rogers, local officials and executives from Fibrotex USA to cut the ribbon on the company's new vertical manufacturing facility, established through a partnership with Outdoor Venture Corp. (OVC) and expected to create up to 350 full-time jobs via a $12.1 million investment.
"This exciting project will create substantial new economic opportunity in Southeast Kentucky, while also providing crucial, high-tech products for our nation's armed forces," Gov. Bevin said. "Outdoor Venture Corporation has been an integral part of McCreary County's industrial sector for more than 35 years, and it is great to see the company bring another great business to the region. We thank both OVC and Fibrotex USA for the vital work they do—and for their commitment to utilizing Kentucky's strong workforce to accomplish their mission."
Announced in October 2018, Fibrotex USA was awarded a 10-year, $480 million contract to supply Ultra-Lightweight Camouflage Net Systems (ULCANS) to the U.S. Army. As a strategic subcontractor, OVC assisted Fibrotex USA in establishing a new manufacturing location in Stearns. Leaders at the companies project creating 150 jobs at the new Fibrotex facility to manufacture material used in ULCAN and additional signature management technologies moving forward. The investment includes accommodation for a 200-job expansion at OVC's McCreary County operation. The ULCANS is a modular camouflage system used to conceal military equipment, facilities, troops and other assets in a wide variety of environments.
"Today more than ever, our troops are facing a near-peer enemy with capabilities that did not exist nor were in play for the last two decades," said Eyal Malleron, CEO of Fibrotex USA. "This new threat requires us to re-adopt and relearn camouflage, concealment and deception doctrines more than ever. We are excited to provide this exact solution to the U.S. Army via the ULCANS with the strategic assistance of OVC and the extraordinary workforce in Kentucky."
"This is an important long-term partnership that we are building in McCreary County to supply products directly to the Army," said JC Egnew, president and CEO of OVC. "I anticipate this friendship will far exceed the next decade."
---
IT'S FREE | Sign up for The Lane Report email business newsletter. Receive breaking Kentucky business news and updates daily. Click here to sign up
---
Founded in Stearns in 1972, OVC is a prime supplier of next-generation military tent systems for the U.S. Department of Defense, allied international governments and private industry. The company got its start with commercial tent manufacturing, since expanding its product offering to include sleeping bags, military tents, hunting products, basecamp units, fire containment covers, mining chambers and automotive airbags. OVC operates four facilities in McCreary County, where the company employs 225 people.
For more than 50 years, Israel-based Fibrotex Technologies has developed and manufactured innovative signature management systems for armed forces and law enforcement around the world. Fibrotex USA manufactures customizable systems used by the U.S. military, including lightweight, reversible textiles that prevent sensor detection including UV, visual, NIR, SWIR, thermal IR and radar.
As a senior member of the Defense Appropriations Subcommittee, U.S. Rep. Hal Rogers worked to secure the resources for this and other vital initiatives that support American troops and jobs.
"Fibrotex is a perfect fit for Southern Kentucky. We have the best workforce in the country and a long history of faithful service to our military and our allied forces," said Rogers. "I take great pride in knowing that we are producing specialized equipment for the Army in McCreary County, and I believe this new partnership between Fibrotex USA and OVC will impact our rural region for years to come. I applaud J.C. Egnew's perseverance to create jobs at OVC and extend greater opportunities to our incredible workforce."
Sen. Max Wise, R-Campbellsville, said the investment is a significant marker of growth in the region.
"I am pleased to recognize Fibrotex USA for investing in our district with this historic expansion project affording McCreary County 350 jobs," Wise said. "Fibrotex USA is making a monumental impact in Kentucky's workforce and our military."
Rep. Ken Upchurch, R-Monticello, noted the great work done by both companies.
"I'm thrilled to see Fibrotex follow in the footsteps of Outdoor Venture Corp. and invest in our community," Upchurch said. "Not only are we going to see a major impact from the 350 new jobs, but I think our community can have a big sense of pride in the fact that something we make here will be helping the men and women in our armed forces."
Nathan Nevels, deputy judge-executive and director of economic development in McCreary County, said the project will be a major boon for the local workforce.
"As our county's director of economic development, I am very excited about the influx of new job opportunities in Stearns," Nevels said. "We have a strong history of supporting our military's needs for tents and other equipment, and Fibrotex will complement these resources and provide added safety and concealability for our troops and their equipment. I consider it a huge honor that a company from Israel has chosen my home for their new production facility."
To encourage the investment and job growth in the community, the Kentucky Economic Development Finance Authority (KEDFA) in December 2018 approved OVC for up to $200,000 in tax incentives through the Kentucky Enterprise Initiative Act (KEIA) based on a $12.1 million investment. KEIA allows approved companies to recoup Kentucky sales and use tax on construction costs, building fixtures, equipment used in research and development and electronic processing.
In addition, OVC can receive resources from the Kentucky Skills Network. Through the Kentucky Skills Network, companies can receive no-cost recruitment and job placement services, reduced-cost customized training and job training incentives.
To learn more about Outdoor Venture Corp. at www.OutdoorVenture.com. For more information on Fibrotex USA, visit www.FibrotexUSA.com.
A detailed community profile for McCreary County can be viewed here.