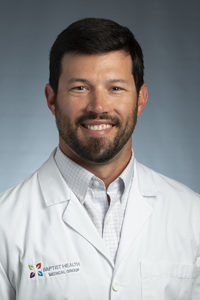 NEW ALBANY, Ind. — Baptist Health Medical Group has welcomed a new Sports Medicine physician to its New Albany-based Orthopedics practice. In September, William A. Davis II, DO, joins the practice, located at 2125 State Street, Suite 5, in New Albany. Although Dr. Davis specializes in sports medicine, he places a particular emphasis on concussion treatment, something new to healthcare in southern Indiana and a true benefit to student athletes in the area. The practice will also work cohesively with Baptist Health's high school athletic training program and Baptist Health Medical Group physical therapy locations throughout southern Indiana.
Sports Medicine, as a specialty, is one that treats all people, not just athletes. Together with Orthopedic and Sports Medicine physician Kris Abeln, MD, the practice will also focus on treating and preventing sports and physical fitness injuries. In addition to treatment and prevention of injuries, Dr. Davis also serves the non-athlete population, including those interested in beginning an exercise or fitness plan. The ultimate goal for both physicians is to help get patients back to the activities and lifestyles they enjoy as soon as possible.
Dr. Davis, a graduate of the University of Pikeville–Kentucky College of Osteopathic Medicine, completed his residency in family medicine at the University of Mississippi Medical Center. He completed his sports medicine fellowship at the University of Louisville. He is an active member of the American Osteopathic Association, the American Academy of Family Physicians and the American Medical Society of Sports Medicine.