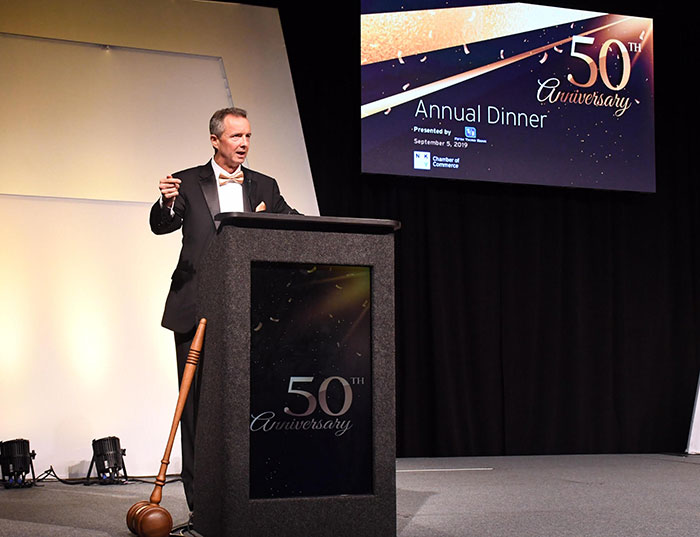 FORT MITCHELL, Ky. — The Northern Kentucky Chamber of Commerce brought the business community together Thursday night for its largest networking event of the year the Annual Dinner, presented by Fifth Third Bank.
The event marked the transition in leadership for the NKY Chamber board of directors with the passing of the gavel from Jim Parsons of Keating Muething & Klekamp to Dan Cahill, CEO of HSD Metrics. The evening also celebrated community and business leaders who are making a lasting impact on the region.
Like those before him, Cahill used the evening to share his vision for the coming year.
"We know from history that when we collaborate, we succeed," said Cahill. "For 50 years, we have been relentlessly pushing to create a single message within our region and it is time for our breakthrough moment."
"For this next year, the Northern Kentucky Chamber will be the change we want to see. We will commit to driving collaboration in our community so that the voice coming from this community is succinct, understandable and relevant. We will act as one Northern Kentucky."
Founded in 1969, the NKY Chamber also used the occasion to celebrate the organization's 50th anniversary. The evening included a look back at key milestones and highlighted many of the individuals who were instrumental in the NKY Chamber's evolution including the past NKY Chamber presidents who were in attendance including Gary Toebben, Steve Stevens and Trey Grayson.
The centerpiece of the evening, however, was the presentation of awards recognizing both individuals and organizations making an impact in the region.
"Northern Kentucky is fortunate to have community leaders like the individuals and organizations recognized this year. They have consistently given their time, talents and resources over the years," said Brent Cooper, president and CEO of the NKY Chamber.
The following awards were presented during the event:
The Walter R. Dunlevy/Frontiersman Award
Established in 1968, the Walter R. Dunlevy Frontiersman Award recognizes an individual who has a lifelong history of outstanding service to the Northern Kentucky community, exhibits outstanding service to their profession or industry, and exemplifies the highest standards of personal integrity and family responsibility. 2019 Recipient: Bob Heil, KLH Engineers
The Walter L. Pieschel (MVP) Award, sponsored by Humana
Named in memory of the NKY Chamber's first volunteer leader, the Walter L. Pieschel award recognizes an individual NKY Chamber member who has provided outstanding volunteer service to the NKY Chamber as a committee member, committee chair, or in any other special capacity during the past 12 months. 2019 Recipient: Cassie J. Forrester, PNC Bank

The Northern Kentucky Unity Award, sponsored by PNC Bank
The Unity Award is presented to an individual or individuals who have shown leadership in bringing Northern Kentuckians together to address and solve common challenges and issues, and has shown leadership in seeking regional solutions to Northern Kentucky challenges. 2019 Recipients: Northern Kentucky Judges-Executive Kris Knochelmann, Gary Moore, and Steve Pendery
The Northern Kentucky ImageMaker Award, sponsored by St. Elizabeth Healthcare
The ImageMaker Award is presented on special occasions to an individual or individuals who have brought national or international attention to the Northern Kentucky community through their achievements. 2019 Recipient: New Riff Distilling
The Horizon Award, sponsored by Horizon Community Funds of Northern Kentucky
The Horizon Award sponsored by Horizon Community Funds of Northern Kentucky recognizes the extraordinary contributions of an individual who exemplifies dedication, integrity, and honorable service to Northern Kentucky through community leadership. Recipients are individuals who have devoted their time, talents, and expertise to serve the public good, and who have made significant, demonstrable, and direct contributions to the community's well-being. 2019 Recipient:  Kristi P. Nelson, Multi-Color Corporation
The Devou Cup, presented by the Northern Kentucky Fund of the Greater Cincinnati Foundation
The Northern Kentucky Fund of the Greater Cincinnati Foundation created the Devou Cup to honor the generosity of individuals who make a profound difference in the quality of community life in Northern Kentucky, now and into the future. 2019 Recipients: Jeanne-Marie and Dick Tapke
The Wm. T. (Bill) Robinson III Northern Kentucky Economic Development Award, sponsored by Northern Kentucky Tri-ED
The Wm. T. (Bill) Robinson III Northern Kentucky Economic Development Award is presented annually to the individual, entity, company, or organization demonstrating significant advancement of economic development efforts in Northern Kentucky. 2019 Recipient: Jeanne Schroer, Catalytic Fund
"A service mindset is part of the DNA of the Northern Kentucky business community," said Cahill. "Those recognized have truly distinguished themselves and have made a lasting and meaningful impact on our region. We are thankful for their dedication to our community."
"The NKY Chamber was founded 50 years ago with the idea that we're stronger when we work together," said Cooper. "As we head toward the next 50 years, we're looking forward to expanding upon the tradition of a unified Northern Kentucky. A strong part of both the state of Kentucky and the Cincinnati Experience."
Annual Dinner Sponsors:
Title Sponsor: Fifth Third Bank
Host Sponsors: Northern Kentucky Convention Center, Masterpiece Creations
Dunlevy Award Sponsor: Duke Energy
Unity Award Sponsor: PNC Bank
ImageMaker Award Sponsor: St. Elizabeth Healthcare
Devou Cup Presented By: The Northern Kentucky Fund of The Greater Cincinnati Foundation
Horizon Award Sponsor: Horizon Community Funds of Northern Kentucky
Pieschel Award Sponsor: Humana
Wm. T. (Bill) Robinson III Northern Kentucky Economic Development Award Sponsor: Northern Kentucky Tri-ED
Presenting Sponsors: Delta Air Lines, Heritage Bank, Scooter Media
Parking Sponsor: Civista Bank
Media Partner: Cincinnati Business Courier
Wine Sponsors: BB&T Bank, DHL Express, Stock Yards Bank & Trust, Taft Stettinius & Hollister