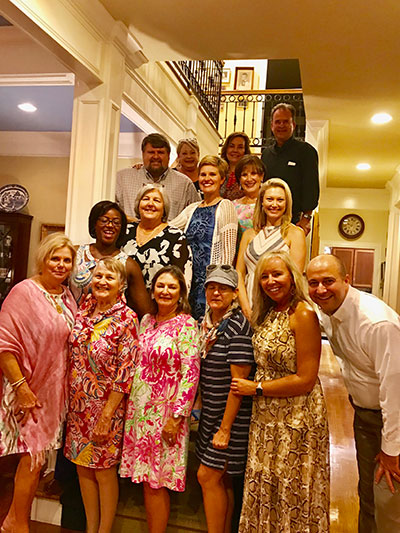 SOMERSET, Ky. — Affirming its belief that arts, entertainment and cultural issues are a major component of community building and economic development, the Somerset-Pulaski Economic Development Authority (SPEDA) helped host the Kentucky Arts Council board's first visit to Somerset Sept. 12-13.
In partnership with Somerset resident and Kentucky Arts Council board member Janice Turpen, the City of Somerset and the Somerset-Pulaski Convention and Visitors Bureau, SPEDA helped organize the visit, filled with experiences that showcase Somerset's bustling arts community.
In addition to the council's 14-member volunteer board, Kentucky Arts Council Executive Director Chris Cathers and Tourism Arts and Heritage Cabinet Secretary Regina Stivers also participated in the two-day visit.
"It was an honor to help host the Kentucky Arts Council in Somerset and display so many of our talented artists and musicians to such an influential group," said Chris Girdler, SPEDA president and CEO. "We are proud of the work Janice Turpen does for the commonwealth and her work to bring the council to Somerset and Pulaski County. And we thank our outstanding tourism professionals, Leslie Ikerd and Michelle Allen, for organizing and facilitating the group's plans."
The visit featured a reception at the home of U.S. Rep. Hal Rogers, R-Ky., Thursday evening featuring local vocalists and a presentation about Somerset High School's performing arts program. Council board members then visited the home of Cornelia Dozier Cooper, who recently received the Governor's Millner Award in the Arts for her outstanding philanthropic and artistic contributions, as well as several local arts organizations, including the Carnegie Community Arts Center, Flashback Theater Company, McNeil Music Center and Wandering Elm Photography.
Flashback Theater Company was one of three Pulaski County non-profit arts organizations to receive grant funding from the Kentucky Arts Council in August as part of its Kentucky Arts Partnership program. The program helps these community groups continue their work growing the arts across the state. The Lake Cumberland Performing Arts and The Shine House also received funding through this program.
Council board members learned about local craft brewery Jarfly Brewing Co., Somerset's award-winning Master Musicians Festival, and a new arts exchange effort between the cities of Somerset and Louisville, while also interacting with the work of several local visual artists.
The visit culminated with the council's quarterly board meeting at the Somerset Energy Center, where Mayor Alan Keck had the opportunity to address the group.
"The arts are central to our Kentucky story and we truly have an art and entertainment boom blossoming out of Somerset," Keck said. "We were excited to share our story while learning more of what's happening in the rest of the state."
Turpen said she enjoyed showing fellow board members her "Best 'Set.'"
"We have amazing talent in Somerset and Pulaski County and I knew the council members would be blown away by the quality and quantity of talent they were exposed to during their visit," Turpen said. "This was a goal of mine — to bring them to Somerset and show the wealth of opportunities we can offer. I truly appreciate the local support from government officials, artists, performers and local businesses. This has been a team effort, and when we work together great things happen."