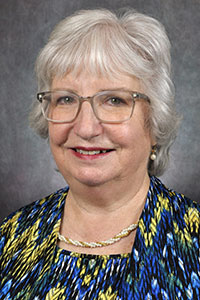 FRANKFORT, Ky. — Rebecca Combs Lyon became the first woman to serve as clerk of the Kentucky Court of Appeals when she assumed that role Oct. 1. The appellate clerk is appointed and responsible for the custody, control and storage of all appellate records.
Lyon has served the Court of Appeals in various capacities for more than 30 years. She has been an appellate staff attorney at Central Office, the civil motions panel attorney and deputy chief staff attorney. She has also been an appellate staff attorney for Judges Anthony M. Wilhoit, Paul D. Gudgel, Michael L. Henry and James I. Howard. She most recently served as chief staff attorney for the court.
"Becky has served the Kentucky Court of Justice with distinction for many years," Court of Appeals Chief Judge Denise G. Clayton said. "She is the ultimate professional and is committed to serving the court and the citizens of Kentucky. The Court of Appeals is fortunate that Becky will continue her service as the new clerk of the court."
While on hiatus from the Court of Appeals to care for her mother, she served as a part-time hearing officer for the Division of Exceptional Children Services in the Kentucky Department of Education from 2001-2007.
Lyon graduated magna cum laude with a bachelor's degree in politics and a minor in economics/accounting from Converse College in Spartanburg, S.C., and a juris doctor from the University of Kentucky College of Law, where she was a member of the Moot Court Board. She is a member of the Kentucky Bar Association's Appellate Advocacy Division, The Central Kentucky American Inn of Court and the National Conference of Appellate Court Clerks.
She is married to her former law school classmate, James D. (Jim) Lyon, who is a bankruptcy trustee and attorney. They reside in Lexington and have three children and two granddaughters.
"I'm humbled and honored to serve as clerk of the Kentucky Court of Appeals," Lyon said. "A lot has changed over the years, but one thing hasn't – the important role the court plays in the lives of Kentuckians. The citizens of this commonwealth have disputes involving their families, their livelihood and their freedom. They trust the judges to fairly and impartially settle these disputes. It is our job as staff to assist the judges in seeing that these resolutions are expeditious and accessible. I look forward to continuing to work with the talented and dedicated people at the Court of Appeals."
She succeeds Samuel P. Givens Jr., who retired as clerk Sept. 30 after 30 years with the court system.