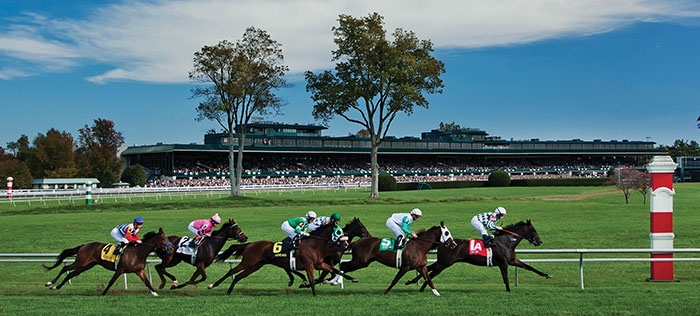 Business and economic impact, education and quality of life, sports and tourism – Kentucky's signature equine industry checks all the boxes in Central Kentucky.

With an economic impact of $3.4 billion and 80,000 direct and indirect jobs, the equine industry is a leading sector of Kentucky's economy. It is also at the heart of Central Kentucky's culture. From the 1,200-acre Kentucky Horse Park to the hundreds of horse farms in operation here, calling Lexington the Horse Capital of the World is not an exaggeration.
Central Kentucky has more equine acres than any other area in the commonwealth. In fact, the top four counties for equine acres are located in Central Kentucky – Fayette, Bourbon, Woodford and Scott. There are more than 400 horse farms in Central Kentucky, and more than 1,100 "equine operations" in Fayette County alone, according to the 2012 Kentucky Equine Survey.
These operations support thousands of jobs, and industry leaders want to keep it that way.
The industry is in the process of building a sustainable domestic equine workforce, according to Elisabeth Jensen, executive vice president of Kentucky Equine Education Project (KEEP) and the Kentucky Equine Education Alliance.
"Industry employer collaboratives continue to be formed to identify the needs of the industry from the end point, the employers," she said. "These participating employers, employer-led associations and community stakeholders are building partnerships while using a demand-driven concept to identify critical positions and the skills and needed training associated with them."
---
IT'S FREE | Sign up for The Lane Report email business newsletter. Receive breaking Kentucky business news and updates daily. Click here to sign up
---
To address the job needs within the industry, KEEP, a not-for-profit equine economic advocate created in 2004, teamed up with the Kentucky Chamber of Commerce, Keeneland, Churchill Downs and the nonprofit Race for Education on an initiative called the Kentucky Equine Talent Pipeline. The initiative came about in the spring of 2018, when research by the Kentucky Chamber of Commerce indicated that equine employers lacked "a skilled labor force to fill their vacancies and provide the manpower necessary to keep their businesses, and industry, alive," said Laurie Mays, project manager for the Equine Talent Pipeline.
"Industry support is abounding from numerous educational partners, facilities and organizations, as well as the employers themselves, who are the driving force in producing a sustainable domestic equine workforce," Mays said.
Owners of Thoroughbred and sport horse farms are participating in the project, along with equine transportation companies, feed mills and veterinary clinics. The equine pipeline project is looking into the gap between the education and skills of potential employees and the needs of employers.
"This project is vitally important to Kentucky as the lack of a domestically sourced and trained workforce for the equine industry is at a crisis level," Jensen said. "By involving every entity of the industry, this initiative hopes to build a solid, sustainable talent pipeline that will continually provide quality equine employees over the long term."
Breeders Cup returns to Keeneland
Headquartered in Lexington since May 1983, Breeders' Cup Limited is the organization responsible for the annual equine event that determines the best-of-the-best Thoroughbred in the world. First held in November 1984 at Hollywood Park in Los Angeles, the Breeders' Cup World Championships is now a two-day event at noted racetracks around the country. It has been held at Churchill Downs in Louisville nine times and in 2015 at the smallest venue, Keeneland. That was one of the most spectacular years in Thoroughbred racing, as American Pharoah won the first Triple Crown series since 1978, and, during the world championships at Keeneland, won the Breeders' Cup Classic. Those four major wins made American Pharoah the first "grand slam" winner of Thoroughbred racing.
It was a big year for Keeneland, too. In preparation for the 2015 Breeders' Cup, Keeneland transformed to accommodate the event's large crowds, with luxury chalets and lounges set up on a temporary basis to provide fans with unique venues and experiences. The Friday and Saturday races drew a cumulative crowd of 95,102 attendees, breaking attendance records for Keeneland.
Breeders' Cup was happy with the experience, too, and decided to return to Keeneland in 2020.
"The Bluegrass served as the ideal backdrop for the 2015 Breeders' Cup and we could not be more excited to have Keeneland serve as the host of the 2020 edition of the World Championships," said Keeneland President and CEO Bill Thomason. "Building on the success of the event for the industry and the community, we anticipate an even greater spectacle in 2020 and look forward to the Breeders' Cup returning home once again."
Kentucky Horse Park celebrates 40 years; new event planned
The Kentucky Horse Park was the world's first park dedicated to man's relationship with the horse. The park sits on 1,224 acres of land, located in both Fayette and Scott counties, that has been used to raise Thoroughbreds since the early 1800s.
It is a huge tourist attraction in Central Kentucky, drawing hundreds of thousands of visitors each year. In 2018, the Kentucky Horse Park commemorated its 40th anniversary with several free events for the public.
During fiscal year 2019, there were 535,000 park visitors, and the Kentucky Horse Park had some renovations and added new events. Lexington-based Wrigley Media Group made renovations possible for two theaters in the Horse Park's visitors center. Known as the Ovation and the Mane, the theaters now have new sound systems, as well as new seating, paint and carpet. On top of the scheduled 200 annual equine events, the park added six new events this year, including its own horse show in April, the Kentucky Horse Park Spring Opener.
"The Spring Opener is the second event owned and operated by the Kentucky Horse Park," said Laura Prewitt, KHP executive director. "Our first event, the Bluegrass Rockin' Rodeo, continues to gain momentum and aligns with the long-term initiatives set forth in our strategic plan of creating park-owned events."
A new three-day event is coming to the Kentucky Horse Park in late September 2020. Equitana USA is a trade fair and expo for equestrians from all over the world, with shopping, seminars, speakers and entertainment.
More than 30 national and international equine organizations are headquartered at the Kentucky Horse Park's National Horse Center. There are associations for breeds like Friesian, Hackney, Hanoverian, Paso Fino and Saddlebred, as well as the American Association of Equine Practitioners, Equestrian Events Inc. and Equine Land Conservation Resource, among others.
The United States Equestrian Federation broke ground in May 2018 for a standalone 35,000-s.f. office building and had moved into the new space by September 2019.
From a leisure travel perspective, 40,000 campers on average stay at the Kentucky Horse Park Campground every year. They arrive from all 50 states and Canada, with Kentucky residents accounting for 44% of campground reservations.
Equine educational offerings evolve
Because the industry is such a large part of Central Kentucky's economy and culture, many Central Kentucky colleges and universities offer courses and majors in equine studies.
Bluegrass Community and Technical College offers the only college-accredited professional jockey school in the nation. BCTC's North American Racing Academy, located at the Thoroughbred Center on Paris Pike, was launched in 2006 by former jockey Chris McCarron, who taught until his retirement in 2015.
Midway University, located on a 200-acre horse farm in Woodford County, offers undergrad degrees in equine studies with concentrations in equine management, equine rehabilitation and science, and an MBA with an equine studies concentration.
Asbury University has majors in equine studies and equine-facilitated wellness.
Students and faculty in the equine studies program at AU have trained horses for police departments since 2001. The horses are all geldings, either Thoroughbred-Percheron crosses or a Thoroughbred-Clydesdale cross, that are put under saddle as two-year-olds and trained in both English and Western tack. AU service mounts are serving active duty in the Lexington and Louisville police departments, as well as departments from California to Canada, including Florida, Georgia, Michigan and Nebraska.
In the spring of 2019, the Keeneland Association gifted $1.3 million to the University of Kentucky's College of Agriculture, Food and Environment's Gluck Equine Research Center for the Keeneland Endowed Chair in Equine Veterinary Science. The fund now stands at $3 million. A new commercial testing laboratory at UK's Coldstream Research Campus will provide research and drug testing for performance horses and racehorses.
Horse farm tours made easy
Years ago, if a visitor wanted to tour a horse farm, it was difficult to know where to look or how to make a reservation. Which farms allowed tours? When were they offered?
That all changed when Horse Country Inc. formed in 2015. The Horse Country website, visithorsecountry.com, allows visitors to schedule tours at 25 to 30 member farms in Fayette, Bourbon, Jessamine, Scott, Woodford and Oldham counties.
Tour-goers from all 50 states and 22 countries outside the USA have made their way to a horse farm thanks to the organization. Anne Hardy, Horse Country's executive director, said 73% of Horse Country guests arrive from outside of Kentucky, creating "a great trend for economic impact." She added that 15 member companies have hired new staff to support the increase in tourism.
July 2019 sales for Horse Country tours exceeded July 2018 by more than 100% in revenue.
"Elevated experiences are responsible in part for the increase in revenue," Hardy said. Those elevated experiences include shuttle tours, owner-led experiences, photography tours and VIP tours.
"Our B2B area is growing as well with corporate incentive, group and out-of-state tour operators realizing an increase of bookings," Hardy said. "We've even hired a sales lead to work with these new customers."
Million-dollar sales
More money changes hands over the sale of horses in Lexington than any place in the world. Horses routinely fetch millions of dollars at the Keeneland Sales. Keeneland, a National Historic Landmark, is the largest and most prominent Thoroughbred auction house in the world. It hosts four sales annually in January, April, September and November, which result in more than $500 million in sales.
Keeneland also is a tourist destination for thousands of visitors a year. More than 300,000 visitors attend the April and October racing meets each year.
ORGANIZATIONS
Fasig-Tipton
Thoroughbred, Standardbred sales
fasigtipton.com
Festival of the Horse
Parades, entertainment
Georgetown
festivalofthehorse.org
Keeneland
Thoroughbred racing, sales
keeneland.com
Keeneland Library
Collection of racing archives
keeneland.com
Kentucky Three-Day Event
Prestigious equine competition
kentuckythreedayevent.com
Lexington Junior League
Charity Horse Show
Historic Saddlebred event
lexjrleague.com
The Red Mile
Harness racing
theredmile.com
Tattersalls
Standardbred sales
tattersallsredmile.com
EDUCATION
Asbury College Equine Studies
Wilmore – asbury.edu
Georgetown College Equine Scholars Program
Georgetown – georgetowncollege.edu
Kentucky Equine Management
Internship Program
kemi.org
Kentucky Horseshoeing School
Richmond – kentuckyhorseshoeingschool.com
Midway College Equine Studies
midway.edu
North American Racing Academy
Equine workforce education
bluegrass.kctcs.edu
The Race for Education
College scholarships
raceforeducation.org
University of Kentucky
Ag Equine Programs
uky.edu
EQUINE RESCUE & ADOPTION
Kentucky Equine Humane Center
Nicholasville
kyehc.org
Old Friends Farm
Georgetown
oldfriendsequine.org
RESEARCH
Maxwell H. Gluck Equine Research Center
University of Kentucky
uky.edu
VETERINARY CLINICS
Hagyard Equine Medical Institute
hagyard.com
Lexington Equine Surgery & Sports Medicine Park Equine Hospital
parkequinehospital.com
Rood & Riddle Equine Hospital
roodandriddle.com
Woodford Equine Hospital
Versailles – parkequinehospital.com