By Russ Brown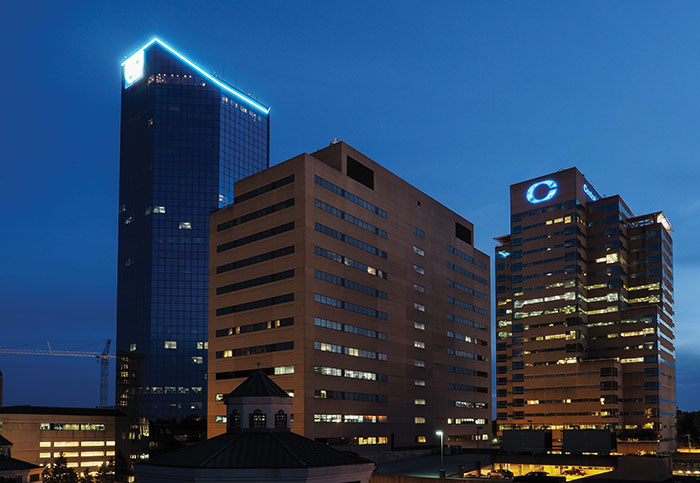 Luther Deaton, chairman, president and CEO of Central Bank, figures he will eventually get to sample the prized, Grand Champion Ham he bought, as the bank's representative, for $1 million at this year's Kentucky State Fair.

It marked the fourth consecutive year that Central Bank was part of the winning bid, with proceeds being donated to various departments at the University of Kentucky and other health care organizations.
As for the ham itself, Deaton says, "Our owner usually invites me over for a slice on Christmas morning."
If that's the case, the ham breakfast could serve as a dual celebration of the holidays and another successful year for the banking business in Kentucky.
"Banking has always been pretty good in Kentucky," Deaton said. "I think it's because there are so many community banks that are more active, and they know their customers and their communities."
Central Bank traces its roots back to 1938. Today, Central Bank has 540 employees, serving more than 100,000 customers throughout Central Kentucky with a full range of banking, insurance, investment and wealth management services.
"Although technology is at the heart of service delivery for all of these services, we find that personal relationships with experienced banking professionals are still the key factor," Deaton said.
The latest figures from the FDIC report that there are 36 banking institutions in the Lexington market with $10.2 billion in deposits.
Debra K. Stamper, general counsel and vice president of the Kentucky Bankers Association, agrees with Deaton that the foundation of banking in the Bluegrass State has been solid for decades and looks as if it will remain so.
"Banking in Kentucky has always stayed steady and strong," Stamper said. "Kentucky banks tend to be more traditional, adding new technologies and features as needed, and that has allowed them a long history of success, which then contributes to the success of the communities."
"I expect the future will look much like the past. Banking will continue on steadily," she added. "Technology will allow for customer conveniences. With the exception of continued mergers, the future looks great."
A prime example of banking's health in Kentucky is the recent expansion by German American Bank, which is headquartered in Jasper, Ind., about 65 miles west of Louisville.
In its latest move, demonstrating its view that there is plenty of room for growth in Kentucky, German American reached an agreement earlier this year to acquire Citizen First Bank of Bowling Green. The transaction was approved by regulatory agencies and closed on July 1. Systems, signs and branding of its locations occurred in early September.
The bank also has branches in Lexington, Bowling Green, Franklin, Owensboro and the Louisville metropolitan area, and another branch is under construction in Henderson.
Just over a year ago, German American had no presence in the commonwealth. It now has 17 locations across seven counties – including two in Lexington – with almost $1 billion in assets.
"With good population growth coupled with strong, growing businesses, these markets aligned well with providing the foundation to build market share in Kentucky over time," said Michael Beckwith, Kentucky divisional president for German American.
"It has been a good year for Kentucky banks. Many businesses are thriving and expanding, which I think in large part has helped create good results for the Kentucky banking industry," he added.
John Gohmann, PNC regional president for Lexington, agreed. The Lexington economy has been strong, he said, and PNC has seen growth in all of its lines of business in Central Kentucky.
WesBanco, which has numerous Central Kentucky locations, also has experienced growth across all of its product and service areas during the past year, said Jeff Koonce, market president for Central and Southern Kentucky. A real bright spot for WesBanco has been in residential mortgage and home equity lending, as the demand for home ownership in Central Kentucky continues to climb, he said.
In June 2019, WesBanco completed a successful merger with Farmer's Capital Bank Corp. (United Bank and Trust), which expanded WesBanco's Kentucky franchise and elevated its wealth management business, Koonce said.
Other regional bank leaders agree that the past year has been fruitful.
Republic Bank's Central Kentucky market has experienced growth in mortgage loans, commercial and industrial loans, and commercial real estate lending, said Todd Ziegler, the bank's Central Kentucky market president.
There has been strong growth in Community Trust Bank's Central Kentucky market, said Larry Jones, the bank's central region president. With that growth, there has been a continuing shift to more technological access to financial services, a nationwide trend in the industry.
"With our deposit growth has come a reduction in our 'in bank' teller transactions. The trend has been taking place over five or six years," Jones said. "If the customer can accomplish the desired financial services via technology and not come to the bank – that's what they will do."
Technology in the banking industry is constantly changing and is extremely important in all aspects of the customer experience, PNC's Gohmann said. Some of the biggest changes at PNC in the last year have been the addition of application programming interfaces to provide clients a real-time way to interact with the bank – for payments, receivables or account information through their own internal applications or platforms, he said.
Ever-evolving technology does create cybersecurity concerns, however. Many Central Kentucky bank leaders said improving their mobile and online banking systems while also preventing fraud has been a priority.
Financial institutions are leading targets of cyberattacks. For cybercriminals, attacking banks offers multiple avenues for profit through extortion, theft and fraud, while nation-states and hacktivists also target the financial sector for political and ideological leverage.
Regulators are taking notice and implementing new controls for cyber risk to address the growing threat to the banks they supervise. The Technology Policy Program studies the evolution of cyber threats to the financial system and legal and regulatory efforts to strengthen its defenses.
Over the last several years, states have begun passing legislation with an emphasis on data breach notification to the customer. Change is also occurring from a global perspective, with the General Data Protection Regulation, which covers privacy for any citizens of the European Union.
Beckwith said German American Bank utilizes a layered approach to its security practices, which includes a balance of technical controls, end-user controls, client education, auditing and ongoing research.
PNC has invested hundreds of millions of dollars in back office technology that prevents fraud and creates seamless integration of systems, Gohmann said.
Republic Bank uses a layered, data-centric approach to cybersecurity and continuously tests their system to ensure confidentiality, integrity and availability of systems, Ziegler said.
The risks associated with cybersecurity are perhaps the biggest concern in today's environment and email scams are one of the major avenues for corruption, Stamper said.
"Banks are responsible for maintaining strong cybersecurity measures on their systems," she said. "Those measures are tested and updated regularly. But there are still concerns about the cybersecurity measures being implemented and tested by retailers, non-banking service providers and even customers themselves, which can provide cyber thieves with a direct path to customers' bank accounts.
"The most rapidly growing method of cyber risk is through emails sent to commercial email addresses. "
Banking has always been a very competitive industry, but it is more competitive, high-performing and open than ever. Large or small, online or in person, Central Kentucky has an option for everyone.
CPA firm rebrands; investment group expands
MCM CPAs & Advisors, formerly called Mountjoy Chilton Medley, recently adopted a new brand identity and launched a new website.
"We wanted a more up-to-date identity that communicated our history, core values and the new energy that will drive us forward in our mission to help both our team and clients succeed," said Brad Smith, MCM managing partner. "The new website was a vehicle for this change and has allowed us to showcase our new identity. Clients can now easily navigate the site to find the information that they need most and allow us to better assist our clients."
Smith, the firm's former assurance services team leader, transitioned in 2019 to managing partner, while Diane Medley, the former managing partner, has taken the role of executive chairman.
ARGI, a Louisville-based personal and business financial advisory firm, expanded in 2018 to include an eighth location in Lexington. In addition to its headquarters in Louisville, the company has Kentucky locations in Bowling Green and Elizabethtown, as well as offices in Cincinnati; Indianapolis; Grand Rapids, Mich.; and Norwalk, Conn.
Whitaker Bank
(859) 543-4000
whitakerbank.com
Whitaker Bank Corp. of Kentucky is a family-owned bank holding company with $1.75 billion in assets, 450 employees and 45 locations in 17 Kentucky counties. Whitaker Bank Corp. offers retail and commercial bank services through its two banks, Whitaker Bank and Peoples Bank of Madison County. Wealth management and insurance products are also offered through Kentucky Trust Co. and Whitaker Insurance Group.
Whitaker Bank Corp. understands the personal and business needs of fellow Kentuckians, which is why they offer a wide range of financial products. From business loans to mobile banking, their goal is to make customers' lives easier. They also understand the importance of building relationships with customers. These factors have made Whitaker Bank a staple throughout Central and Eastern Kentucky.
Community Trust Bancorp, Inc.
346 N. Mayo Trail
P.O. Box 2947
Pikeville, KY 41502-2947
(606) 432-1414
ctbi.com
Community Trust Bancorp, Inc. (CTBI) operates with two subsidiaries, Community Trust Bank, Inc. and Community Trust and Investment Co. CTBI provides competitive products and services with a "community banking" level of service.
CTBI has 70 banking locations across eastern, northeastern, central and south central Kentucky, six banking locations in southern West Virginia, four banking locations in Tennessee, four trust offices across Kentucky, and one trust office in Tennessee. As of June 30, 2019, CTBI has assets of $4.4 billion. It is traded on the NASDAQ stock market under the symbol "CTBI."
Republic Bank
601 W. Market St.
Louisville, KY 40202
(502) 584-3600
republicbank.com
Over the last 35 years, Republic Bank has grown to become the largest locally owned community bank in Kentucky, offering a full array of banking and financial services for individuals as well as small and large businesses. Its goal is to make banking easier than anyone else for its clients and exceed their expectations.
Central Bank
300 West Vine St.
Lexington, KY 40507
(859) 253-6222
or (800) 637-6884
centralbank.com
Central Bank is one of Kentucky's leading community banks, providing banking, investment, insurance, mortgage and wealth management products. With assets exceeding $2.5 billion and 28 banking centers, the bank serves Central and Northern Kentucky and Louisville. In addition to  excellent service, Central Bank is honored to be one of Kentucky's Best Places to Work and the Official Bank of UK Athletics. To learn more,  call (859) 253-6222 or visit centralbank.com.
PNC BANK
301 E. Main St.
Lexington, KY 40507
(859) 281-5252
pnc.com
Kentucky continues to benefit from a strong and growing economy. That trend is expected to continue because of the state's large, diverse, innovative industrial base and the positive impact of a major university in the University of Kentucky. The state's growing entrepreneur and start-up economy, and the focus on developing the infrastructure and ecosystems, continues sustaining innovation and growth.
PNC earned an "outstanding" rating for its most recent Community Reinvestment Act exam in Kentucky, and consistently earned top ratings since examinations began. PNC is dedicated to providing clients with superior financial expertise and service to help them achieve their financial goals.
WesBanco
Four Lexington locations
(859) 244-7204
wesbanco.com
Founded in 1870, WesBanco Inc. is a diversified, well-balanced financial services institution that delivers large bank capabilities with a community bank feel. WesBanco has meaningful market share across its five-state footprint, supported by a century-old trust and wealth management business, an insurance agency, and a full-service broker/dealer. Based on customer feedback and satisfaction, WesBanco Bank was ranked the No. 7 Best Bank in the U.S. on Forbes' "World's Best Banks" list.
German American Bank
313 Frederica Street
Owensboro, KY 42301
(270) 688-8878
germanamerican.com
German American Bank is dedicated to helping individuals, families, and businesses achieve greater prosperity and quality of life. The financial team builds lasting client relationships based on integrity, responsive service, innovation, and shared values. German American supports the communities it serves and believes when a community thrives, its people prosper.
From leading-edge banking technology that is continually enhanced to stay abreast of the latest advancements, to local, responsive decision making by a talented team of local professionals, German American Bank, with an exceptionally strong business banking focus, is the ideal choice for all of your financial needs. Stop in any office or visit germanamerican.com. Member FDIC.
MCM CPAS & ADVISORS
1000 Vine Center
333 W. Vine St.
Lexington, KY 40507
(888) 587-1719
mcmcpa.com
As the largest CPA firm in Kentucky, MCM CPAs & Advisors provides highly specialized tax, audit and advisory services to a broad range of clients and industries. Privately and publicly held businesses, not-for-profits, small businesses and individuals across the region and throughout the country receive personalized attention and local access from national-level talent.
MCM combines the technical and industry expertise of larger firms without sacrificing the attention and personal service of a local firm. MCM has offices in Louisville and Lexington in Kentucky, as well as in Jeffersonville and Indianapolis, Ind., and Cincinnati.
ARGI
176 Pasadena Drive Suite 3B
Lexington, KY 40503
(859) 286-5085
argifinancialgroup.com
ARGI is a regional full service financial advisory firm, headquartered in Louisville, Ky. With the mission of improving lives with every relationship, ARGI's team of dedicated consultants provides comprehensive financial planning and investment management through ARGI Investment Services, a registered investment advisor; tax planning through ARGI CPA & Tax Advisors and SCA CPAs & Advisors; insurance solutions through Advisor Insurance Solutions; and business services through ARGI Business Services, all of which are divisions of ARGI Financial Group.
---
Financial institutions
Bank of Lexington
bankoflexington.net
Bank of the Bluegrass & Trust Company
bankofthebluegrass.com
Bankers' Bank of Kentucky
bbky.com
Branch Banking & Trust Co. (BB&T)
bbt.com
Central Bank & Trust Co.
centralbank.com
Century Bank of Kentucky Inc.
centurybankky.com
Chase Bank
chase.com
Citizens Guaranty Bank
Richmond – mycgb.com
Citizens Commerce National Bank
citizenscommerce.com
City National Bank
bankatcity.com
Community Trust Bank Inc.
ctbi.com
Cumberland Valley National Bank & Trust Co.
cvnb.com
Farmers National Bank
fnbky.com
Field & Main Bank
fieldandmain.com
Fifth Third Bank
53.com
First Southern National Bank
fsnb.net
First State Bank of the Southeast
ourfsb.bank
Forcht Bank
forchtbank.com
German American Bank
germanamerican.com
Guardian Savings Bank
guardiansavingsbank.com
Kentucky Bank
kybank.com
Limestone Bank
limestonebank.com
Old National Bank
oldnational.com
Peoples Exchange Bank
pebank.com
PNC
pnc.com
Republic Bank & Trust Co.
republicbank.com
South Central Bank
southcentralbank.com
Town & Country Bank and Trust Co.
Lawrenceburg – mytcbt.com
Traditional Bank
traditionalbank.com
US Bank
usbank.com
WesBanco
wesbanco.com
Whitaker Bank
whitakerbank.com
Credit unions
Commonwealth Credit Union
ccuky.org
Greater Kentucky Credit Union
gtkycu.com
Kentucky Employees Credit Union
kecu.org
KUE Federal Credit Union
kuefcu.com
Lexington Postal Credit Union
lexpcu.com
Members Heritage Federal Credit Union
membersheritage.org
Metro Employees Credit Union
metroemployeescu.org
Park Community Federal Credit Union
parkcommunity.com
The Health and Education Federal Credit Union
thefcu.com
University of Kentucky Federal Credit Union
ukfcu.org
Loan agency
Ag Credit
agcreditonline.com
Accounting firms
Baldwin CPAs PLLC
Richmond – baldwincpas.com
Blue & Co LLC
blueandco.com
Crowe LLP
crowe.com
Dean Dorton PSC
deandorton.com
Duncan, Smith & Stilz PSC
dssky.com
Fister,Williams & Oberlander PLLC
fwpllc.com
Hisle & Company
hisle-cpa.com
The Livesay Group, PLLC
livesaygroup.com
Miller, Mayer, Sullivan & Stevens LLP
mmssllp.com
MCM
mcmcpa.com
Potter & Company
gotopotter.com
PwC
(formerly Price Waterhouse Coopers)
pwc.com
Radwan, Brown and Co. PSC
radwanbrown.com
RFH
rfhcpas.com
Ross, Sinclair & Associates
rsanet.com