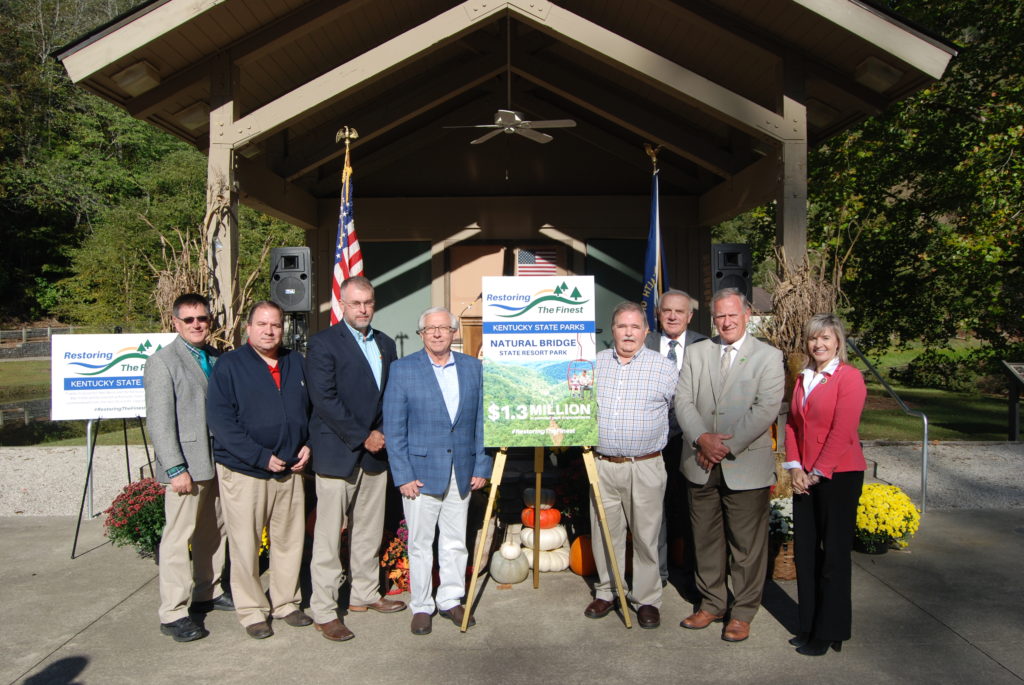 SLADE, Ky. — Approximately $1.3 million in improvements were announced at Natural Bridge State Resort Park today as part of the state's "Restoring the Finest" initiative for Kentucky State Parks.
The initiative is an effort to make structural repairs and safety improvements at Kentucky State Parks across the Commonwealth.
Natural Bridge is scheduled to receive a new lodge roof, wastewater treatment plant upgrades, and renovations for most of its lodge rooms.
With today's announcement, Natural Bridge State Resort Park will have received approximately $1.8 million in improvements since 2016 under the Bevin administration. An additional investment of nearly $700,000 was made to replace the bridge to Hoedown Island at the park last fall with joint funding from  the Kentucky Transportation Cabinet and the Tourism, Arts, and Heritage Cabinet.
"Natural Bridge State Resort Park is critical to tourism and economic development in this community," Tourism, Arts and Heritage Deputy Secretary Regina Stivers said during an announcement at Natural Bridge. "We are thrilled to announce this funding, and we appreciate the continued support our parks receive from Governor Bevin and the General Assembly."
Kentucky State Parks received $18 million and $20 million in added funding as part of the "Refreshing the Finest" program in 2016-2018. Gov. Bevin and lawmakers approved a $50 million bond issue for the "Restoring the Finest" campaign in state parks during the 2019 General Assembly.
"The Kentucky State Parks were facing $240 million in deferred maintenance at the beginning of this administration," Parks Commissioner Donnie Holland said. "Thanks to this funding, we are making much-needed repairs and improvements to help keep our parks open and contributing to the tourism economy across the state."
Natural Bridge State Resort Park has a lodge, restaurant, cottages and campground. The park offers recreational activities such as hiking and swimming, a trail that leads to a natural bridge and easy access to nearby Red River Gorge.