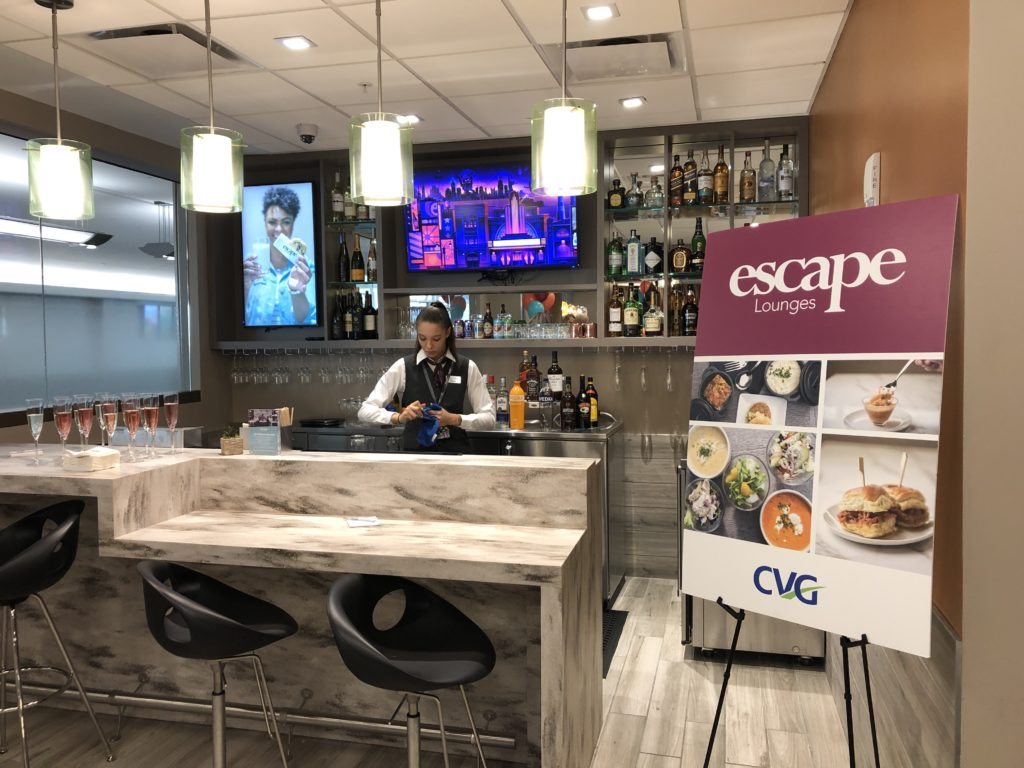 CINCINNATI, Oh. — Cincinnati/Northern Kentucky International Airport (CVG) has announced the opening of the common-use Escape Lounge CVG in Concourse B. Escape Lounges have signed an eight-year agreement to operate and manage the lounge and looks forward to being part of CVG's Strategic Plan to encourage overall growth in the region.
Escape Lounges are all-inclusive premium common-use airport lounges open to all travelers. Guests entering the lounge will receive unlimited amenities that include hot and cold chef-curated food, premium beverages, plush and relaxing seating with ample power outlets, high-speed Wi-Fi, up-to-the-second flight information and access to 7,000+ digital publications in 60+ languages from 120+ countries as well as traditional printed media including GQ, Vogue, Newsweek and USA Today.
With a focus on local, each Escape Lounge's food offerings are developed by an award-winning local chef, using locally sourced ingredients wherever possible. Escape Lounge CVG's esteemed chef is Alfio Gulisano, owner and chef of Butcher & Barrel, Ché and Alfio's Buon Cibo, who offers an eclectic fusion of Italian and Argentinean food to Cincinnati.
Escape Lounges are part of the American Express Global Lounge Collection giving American Express Platinum Card Members complimentary access, along with two guests, to all US locations. For others wishing to enjoy the lounge, the fee for entry at the door will be $45 plus tax. Reservations made online prior to arrival receive a $5 discount and can be made at EscapeLounges.com.
"The opening of the Escape Lounge at CVG is an exciting addition to our overall passenger experience, as it provides a unique option for travelers to relax and enjoy food and drink from a local chef before starting their next adventure," said Candace McGraw, chief executive officer, CVG Airport.
"We are delighted to bring Escape Lounges to CVG where they continue to invest and innovate the passenger experience. This premium lounge will invite every CVG passenger to enjoy a bit of luxury before their flight" says Martin Jones, president and CEO of MAG USA (US subsidiary of Manchester Airport Group and the parent company of Escape Lounges).
This is the eleventh major location opening for Escape Lounges with locations open in Minneapolis-St. Paul International Airport (MSP), Oakland International Airport (OAK), Reno-Tahoe International Airport (RNO), Bradley International Airport (BDL), Greenville-Spartanburg International Airport (GSP), Ontario International Airport (ONT) Terminals 2 and 4, T.F. Green Airport (PVD), Sacramento International Airport (SMF) Terminals A and B, and a twelfth location in Phoenix-Sky Harbor (PHX) opening in Fall 2019.
Learn more about Escape Lounges at EscapeLounges.com.