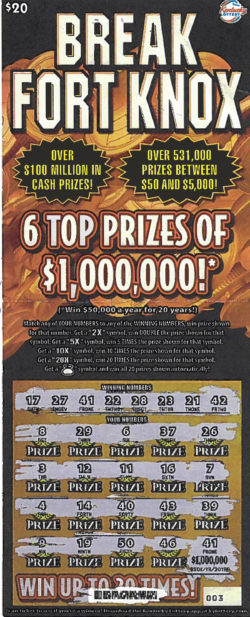 LOUISVILLE, Ky. — Two Kentucky Lottery players, both from Eastern Kentucky, came forward within days of each other to claim a $1 million top prize on the $20 Break Fort Knox Scratch-off game.
The second of the Break Fort Knox "family" of tickets went on sale Sept. 5, and has six of the $1 million prizes. With the two top prizes claimed over the last week, four of the $20 Break Fort Knox top prizes are remaining.
Last Thursday, a couple from Lawrence County who wished to remain anonymous, claimed the first $1 million prize from the game. They had scratched off the ticket while at D & J Tobacco in Louisa.
"I scratched the furthest column to the right first, and there it was," said one of them.
"Am I seeing things?" he said, as he handed the store clerk his ticket. The clerk handed it back to him and said, "I can't help you – you're going to have to go to Louisville."
Winning was well worth the nearly four-hour drive to lottery headquarters. The couple chose to take the lump sum payment and split the prize evenly, each receiving $276,190 after taxes.
"It still hasn't sunk in," he said. "It's been a long day."
The second winner (also wanting to remain anonymous) came forward yesterday after purchasing her winning ticket at Zip Zone #17 in the unincorporated town of Eastern in Floyd County, Ky.
She told lottery officials she didn't know what to think after scratching off the game's top prize.
"It's life changing," she said, and told officials she plans to pay off her debt and get a new car.
D & J Tobacco and Zip Zone #17 will each receive a bonus of $7,800 for selling the winning tickets. This is equivalent to one percent of the lump sum payment of $780,000.