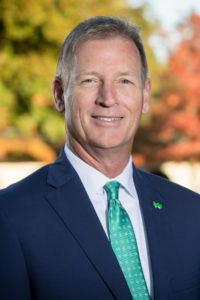 FRANKFORT, Ky. — WesBanco, Inc., a diversified, multi-state bank holding company, announces that its affiliate, WesBanco Bank, has appointed Robert E. Cox as vice president, Commercial Banker and team lead for the Bourbon region, which includes Anderson, Franklin, and Mercer counties. In addition to managing the commercial lenders, Cox will develop new client relationships and grow existing relationships across the commercial banking spectrum.
"We are excited to welcome Bob to the WesBanco family," said Jeff Koonce, WesBanco senior vice president and president for the Central & Southern Kentucky Market. "During our nearly 150 years, WesBanco has maintained its strong community banking roots and commitment to the success of the communities in which we do business, helping us earn the no. 7 ranking in the United States in Forbes magazine's inaugural ranking of the "World's Best Banks," which was based completely on consumer feedback and customer satisfaction. His experience and knowledge will be a great benefit to WesBanco and its customers, as he possesses a strong relationship orientation that meets our commercial customer needs efficiently and effectively."
With more than 15 years of commercial banking experience, Cox acts as a trusted advisor and focuses on building relationships with companies through advisory and solution based consultation. A life-long resident of Anderson and Franklin Counties, he is heavily involved in the community, including being on the Frankfort Area Chamber of Commerce Board of Directors and serving as chairperson for the American Heart Association Frankfort Heart Chase. He holds a Bachelor of Science degree in Economics from Auburn University, and is a graduate of the American Institute of Banking in Financial Analysis, Business Development, and Commercial and Mortgage Lending.