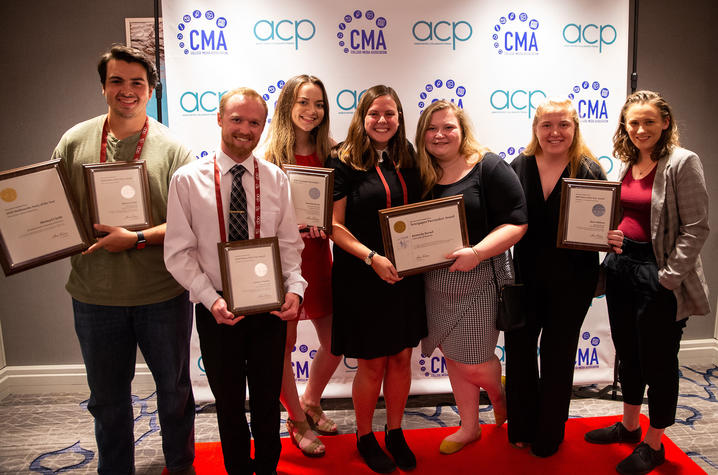 LEXINGTON, Ky. — The Kentucky Kernel was recently awarded the 2019 Pacemaker Award for having one of the best student newspapers in the country. The award ceremony took place at the College Media Association and Associated Collegiate Press convention Nov. 2 in Washington, D.C.
Founded in 1908 and independent since 1972, the Kernel is the nonprofit, student-run newspaper for the University of Kentucky.
"Hearing our name called as a Pacemaker winner was so exciting," said Bailey Vandiver, 2018-19 editor-in-chief for the Kernel, the academic year for which the paper was judged. "While winning awards is not our primary goal as student journalists, it's always great to get this kind of recognition because it means we're doing the kind of really good journalism that we aim to do."
Each year, the National Scholastic Press Association presents scholastic journalism's preeminent award, the Pacemaker. There is a category for each type of publication — online, newspaper, yearbook, magazine and broadcast. Entries are judged by teams of professionals based on the following criteria: coverage and content, quality of writing and reporting, leadership, design, photography and graphics.
Last September the Kernel was named one of 46 finalists, out of the 160 college newspapers that entered the competition. This past week, they were named one of the 19 award winners — giving them their first Pacemaker win since 2016.
"I think winning this award goes to show what we've already known: That we have one of the best collegiate newsrooms in the country, and we continue to try to strive for excellence each and every day," said Ryan Craig, the student media advisor for the Kernel.
"Winning this Pacemaker further legitimizes the Kernel's role as our campus watchdog and voice," said Rick Childress, the 2019-20 editor-in-chief for the Kernel. "We're working hard to bring home another one next year."
Along with winning the coveted Pacemaker Award, the Kernel staff received a number of individual awards. A full list of individual awards is below.
College Media Association Pinnacle Awards
Honorable Mention in Best Editorial Illustration: Samuel Meyers
Third Place in Best Magazine Entertainment Page/Spread: Jillian Jones, KRNL Spring 2019
Third Place in Best Newspaper Photo Page/Spread: Arden Barnes
Second Place in Best Yearbook Division Page/Spread: Autumn Hassell, Year in Photos 2018-19
Honorable Mention in Best Multimedia Feature Story: Sarah Ladd and Arden Barnes
Honorable Mention in Viral Video: Sarah Ladd
Third Place in Best General News Photo: Arden Barnes
First Place in Best Photo Package: Arden Barnes
Third Place in Best Portrait: Michael Clubb
Second Place in Best Sports News Photo: Jordan Prather
Third Place in Best Online Sports Section
Second Place in Best Arts and Entertainment Story: Bailey Vandiver
Honorable Mention in Best Online Ad
Second Place for Best Ad Supplement/Special Supplement: Inside UK
Honorable Mention in Four-Year Feature Magazine of the Year: KRNL Spring 2019
Associated Collegiate Press Awards
Pacemaker Winner 2019
Third Place in In-Depth News Story: Rick Childress
Honorable Mention in Feature Story: Jacob Eads
First Place in Photo Slideshow: Michael Clubb
Honorable Mention in Interactive Graphic: Arden Barnes
Honorable Mention in Yearbook Cover: Autumn Hassell, Year in Photos 2018-19
Honorable Mention in Yearbook Page/Spread: Autumn Hassell, Year in Photos 2018-19
Fourth Place in Sports Photo: Jordan Prather
Fifth Place in Sports Photo: Michael Clubb
Honorable Mention in Advertising Campaign: Rob Fischer
Associated Collegiate Press Best of Show Awards
Eighth Place in Feature Magazine: KRNL Fall 2019
Sixth Place in Yearbook (1-299 Pages): Year in Photos 2018-19
Sixth Place in Newspaper Special Section Advertising: Inside UK
Ninth Place in Newspaper (Four-year campus, weekly)