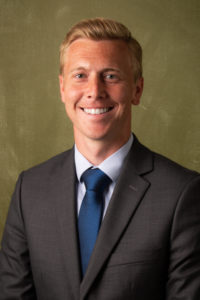 HENDERSON, Ky. — Brad Taber has joined Field & Main Bank as director of information technology, VP.
Taber previously served as vice president of information technology/information security officer at First Federal Savings Bank of Washington in Washington, Ind.
Taber brings years of banking industry experience to the position, including in the areas of network and systems administration; information technology strategy and management; and information security governance, risk, and compliance.
In his new role, Taber will be responsible for execution of all information technology strategic and operational objectives, oversight of infrastructure, equipment, cybersecurity, and compliance requirements, and management of the Information Technology department.
Taber earned his undergraduate degree from Purdue University in 2010 with a bachelor of science in building construction management technology. He earned the designation of master of information technology from Virginia Tech University in 2018.
Taber is also actively engaged in his community and church, serving as Evansville Christian School boys soccer head coach. In 2017 and 2018 Taber was awarded the Positive Educator Award by graduating seniors of Washington High School for his involvement with coaching high school soccer.
Taber lives in Newburgh, Ind. with his wife Erika and their son, Theo. He and his wife are expecting a baby girl this March.