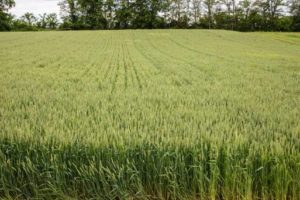 PRINCETON, Ky. — The University of Kentucky Wheat Science Group will host its Winter Wheat Meeting from 9 a.m. to 3 p.m. CST Jan. 7 at the Siemer Milling Company Conference Center at the UK Grain and Forage Center of Excellence in Princeton. Registration will begin at 8:30 a.m. CST.
A representative from Siemer Milling Company will provide a welcome and a presentation. UK College of Agriculture, Food and Environment specialists will cover several topics of interest to those in the wheat industry including whether management practices can reduce the mycotoxin deoxynivalenol (DON) in wheat; soil fertility; crop condition; weed control and the economics of specialty small grains in Kentucky.
"Kentucky producers have opportunities to grow specialty small grains for the growing local food and beverage movements, but hurdles do exist," said Jordan Shockley, UK agricultural economist. "Members of UK's Wheat Science Group are working to bridge those gaps, connect producers with end-users and help build small grain value chains throughout Kentucky."
The Kentucky Small Grain Growers Association will provide a lunch.
Certified Crop Advisers can receive the following continuing education hours: one in pest management, 1.5 in crop management and 0.5 in nutrient management. Pesticide applicators can receive three general and one specific hours in categories 1A, 4, 10 and 12.
More information about the meeting is available online at http://wheatscience.ca.uky.edu.