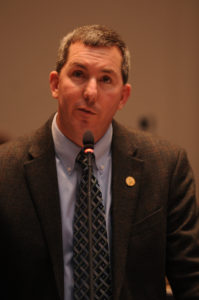 FRANKFORT, Ky. — The Kentucky House voted 85-4 yesterday to give final passage to a bill that would create new paths for Kentucky hemp while keeping the state's hemp program in line with federal law.
House Bill 236 would allow the state to expand the number of qualified laboratories authorized to test the state's hemp crop for THC (tetrahydrocannabinol), a psychoactive component found in hemp and other types of cannabis. THC testing of the state's hemp crop is now handled by the University of Kentucky, which HB 236 sponsor Rep. Matthew Koch, R-Paris, said has experienced a recent testing backlog.
Both state and federal law limit the amount of THC in Kentucky's hemp crop to 0.3%.
Koch said a Senate amendment to the bill approved by the House before final passage clarifies that language in HB 236 regarding transport of hemp refers to hemp extract, not hemp raw material.
"Farmers were concerned that the (former) language … in there with hemp 'material" would affect the transport of harvest from the fields," said Koch. "This language is, of course, intended to address the transport of extract, not raw materials."
House Agriculture Committee Chair Rep. Richard Heath, R-Mayfield, told the House last month that there is some discussion at the federal level about raising the legal THC limit of hemp from 0.3% to 1%. But, he clarified, that is a "federal issue."
"I would support our federal delegation if they decide to go down that road, and I would encourage my colleagues to reach out to their congressmen and their U.S. senators to encourage them to change the definition of hemp from 0.3 to 1.0 (percent)," Heath said.
HB 236 as amended passed the Senate 37-0 on Jan. 30. The measure now goes to the governor for his signature.