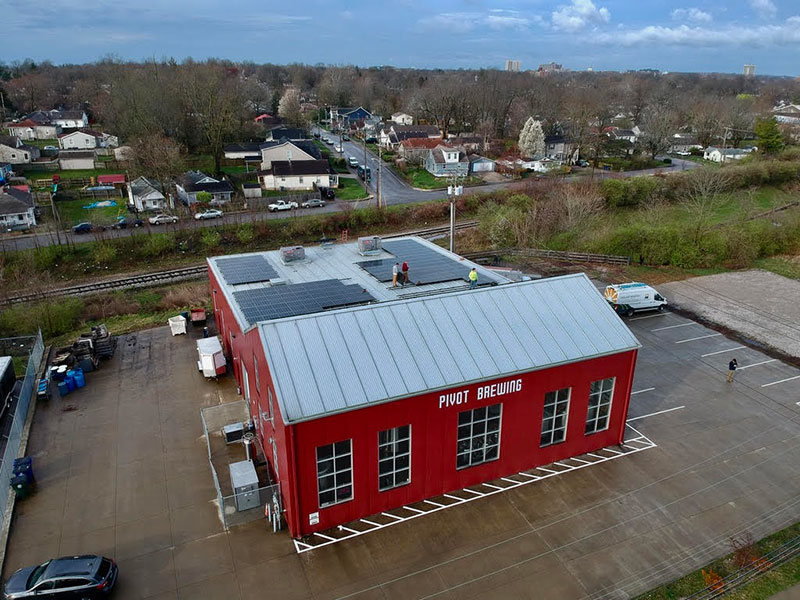 LEXINGTON, Ky. — Pivot Brewing is a small company with a big mission. Its focus is on promoting sustainability and environmental awareness, and its latest project is the installation of solar panels at the brewery.
"Pivot's mission, from its inception, has been to perform our operations in a sustainable manner and to promote environmental causes," Kevin Compton, Pivot Brewing owner, said. "Breweries can be heavy electrical users, so including solar energy was a great option for cutting our carbon footprint. I did the design of the building and roof layout with solar in mind, and we finally reached a point this year when the installation was doable."
The solar panels will supply an estimated 94 percent of Pivot Brewing's electrical needs, which will save the company more than $7,600 per year. In addition, it will remove CO2 emissions that are the equivalent of more than 118,000 miles driven by an average passenger vehicle.
"Pivot is committed to having a positive impact on our community and the environment," Compton said. "We value that commitment, and we believe our customers do as well."
Solar Energy Solutions, headquartered in Lexington and the largest solar company in the region, designed and installed the solar panels.
"More and more, small businesses have a dual mission of improving the environment and helping their bottom line by taking charge of how their power is delivered," said Matt Partymiller, co-owner of Solar Energy Solutions. "This project is the perfect example of how they can achieve both."
Pivot Brewing is located at 1,400 Delaware Street in Lexington.