ECONOMIC DEVELOPMENT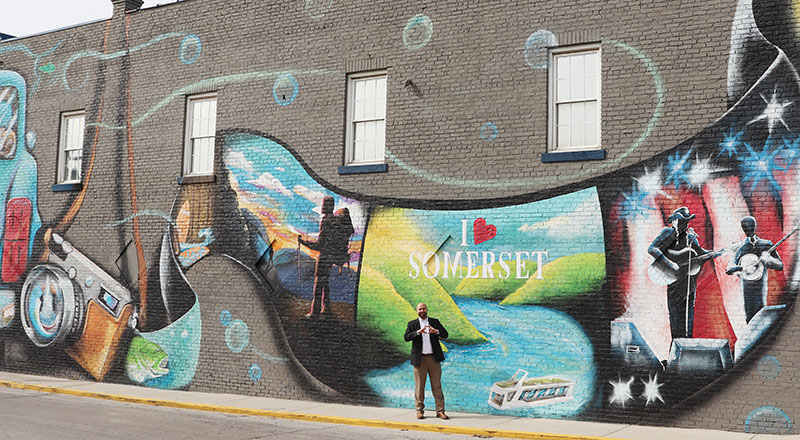 In recent years, Somerset and Pulaski County have enjoyed enviable economic success. Horse Soldier Bourbon Distillery is set to break ground on a $50 million distillery that will create 56 new jobs and place Somerset as the southernmost destination on Kentucky's Bourbon Trail. New businesses are under construction, including a winery, a hard-to-attract Chick-fil-A, and a much-needed overflow lot for 18-wheel truckers, complete with a park, picnic tables, walking trails and food trucks.
In the past year, five retail developments have sprung up.
The city and county's biggest business – tourism – annually attracts some 4 million visitors to the Lake Cumberland Region, which encompasses five counties and has an economic impact of $119 million, according to Michelle Allen, executive director of the Somerset Pulaski Convention and Visitors Bureau (CVB). Some 2.8 million come specifically to Pulaski County. Allen said the number of events in the county increases each year, as does the number of people attending them.
It wasn't always so.
Strife, competition and strained relationships dominated economic development in Somerset and Pulaski County less than a decade ago, according to Bobby Clue, executive director of the Somerset/Pulaski County Chamber of Commerce. There was no overarching messaging to sell the city or county to prospective employers, residents or tourists, he said. Materials from various agencies did not contain the same metrics nor the same look and feel. Each agency did its own thing, its own way.
Clue had been watching events in his hometown from afar and decided he wanted to be part of sculpting a new Somerset.
"I felt a strong calling to come home," Clue said. "I have been back in Somerset for nine years. It is daylight and dark in comparison to a decade ago. Highway 27 is now a major thoroughfare. It was once a tiny retail strip. Somerset is now a major tourism hub, and soon we will be on the Kentucky Bourbon Trail. It's almost incomprehensible." 
Business sprouts after 'wet' vote
Clue moved back to Somerset in 2011, shortly after a pivotal yet controversial vote on whether to allow liquor sales in restaurants, a so-called "wet-dry" vote. "After the measure passed to make Pulaski County 'wet,' I saw this as a catalyst for change," Clue said. "We picked up a Courtyard Marriott and some major casual restaurants that wouldn't come here otherwise."
Then in 2018, Somerset elected a young, new mayor named Alan Keck who had grown up in Somerset but left for college, an MBA program and a job. He lost his first bid for mayor but won the next. He became the city's partner to Pulaski County Judge-Executive Steve Kelley, who was then starting his second term. They became fast allies and built a sturdy bridge between city and county efforts.
"Steve believes a community woven together is stronger," said Keck. "He is a good partner and a good cheerleader. We're friends and colleagues. I believe we are going to lead the way for Kentucky in the next decade. The future will be created in Somerset. I believe that with all my heart."
---
IT'S FREE | Sign up for The Lane Report email business newsletter. Receive breaking Kentucky business news and updates daily. Click here to sign up
---
Keck and Kelley began efforts to create the future they envisioned by forming a quasi-governmental organization called SPEDA (Somerset Pulaski County Economic Development Authority). Funded by revenues earmarked from occupational taxes, Chris Girdler was named its first executive director.
Girdler headed up efforts to attract industry to Somerset and Pulaski County, which has 70,000 residents, including 12,000 in the city.
The changes soon started percolating like someone had turned on a coffee maker. The economic development pot was filling with of a potent new drink of cooperation and collaboration.
In mid-2019, savings due to proper management and business practices producing to $300,000 in annual budget benefits to SPEDA.
Building unity with intention
SPEDA continues to pursue economic development through traditional methods such as conducting factory tours. Like his fellow Somerset area leaders, however, Girdler was not satisfied with that.
He wanted to reach into corners that hadn't been touched for a while, if ever. Girdler initiated SPEDA's creation of a mini grant program for entrepreneurs who want to start or expand a business. Four grants worth $2,500 each are available.
"They are a 'seed' for local entrepreneurs and a sign that local government believes in them," Keck said.
SPEDA also joined forces with an unusual ally – the Pulaski County Detention Center.
The idea is to offer inmates pre-release training to help them get a job upon release and keep it. Inmates are receiving training in soft skills like communication and teamwork. And a grant is being sought so Somerset Community College can teach inmates technical skills that are needed in the community, such as HVAC repair and installation, welding and marketable abilities backed by a host of certificates.
"By the end of 2020, we will have a transitional office within the jail," Girdler said. "By the time they are 60 days from release, we want them to know what kind of jobs are available, have a job lined up, and have some form of transportation.
"We believe the No. 1 secret of economic development is to get everyone on the same page," he said. "It has really helped that anyone who inquires about locating in Somerset now has a one-stop shop (SPEDA) to call with questions about regulations, sewer, water, incentives, etc."
Collectively, the Somerset leaders can rattle off some significant changes.
SPEDA started a quarterly leadership breakfast program. The city and county school system superintendents both helped develop it.
SPEDA has become the convening entity to bring together people who might not have worked together before.
One such meeting brought together local CEOs, Somerset Community College, Lake Cumberland Health Department, Scott Hope Recovery Center, the Lake Cumberland Area Development District, the Kentucky Chamber of Commerce, Backpack Clubs, Arms of Hope, ADANTA, job staffing services, Bethany House Homeless, suicide prevention, Social Security officials, the Department for Vocational Rehab, and the state prison system, to name a few.
"Employers tell me this gets them all on the same page," Girdler said. "These are busy people without much spare time, but we have to collaborate on problems to solve them. No one had ever brought them all together before."
Keck was also instrumental in bringing a farmer's market to Somerset. "Construction is underway now and it should be one of the nicest markets around here," he said.
Others came together to create innovative programs that target specific issues. Former Chamber President Linda Skaarup and William Hunt, the chief of police, initiated the new Shepherds Watch, a partnership between citizens and area police agencies. Residents can register their video surveillance cameras with the police, and if a crime occurs near there, the cameras can help police solve the crime. The cameras have already helped solve a particularly horrific murder as well as cases such as drunk driving and kidnapping.
Some groups have been revitalized, such as the Young Professionals of Lake Cumberland. The organization gives young business leaders from ages 25-40 opportunities to build relationships with community and business leaders, get involved with volunteer efforts of local organizations, and participate in the political, economic, and cultural development of the area, according to Bobby Clue. "In the last two to three years we have seen this become a strong organization," he said.
The county's leadership program has been re-envisioned to deal with real-life issues in the real world.
Somerset has become a regional hub for aviation, health care and retail, pulling people from five counties. The city has a regional airport and is located within 600 miles of 50% of U.S. citizens.
"We are changing the culture," Keck said. "We have a community spirit of collaboration and cooperation. If we continue to unify in spirit and intent, I see nothing short of history being made in less than 15 months."
Fun Draws People in Too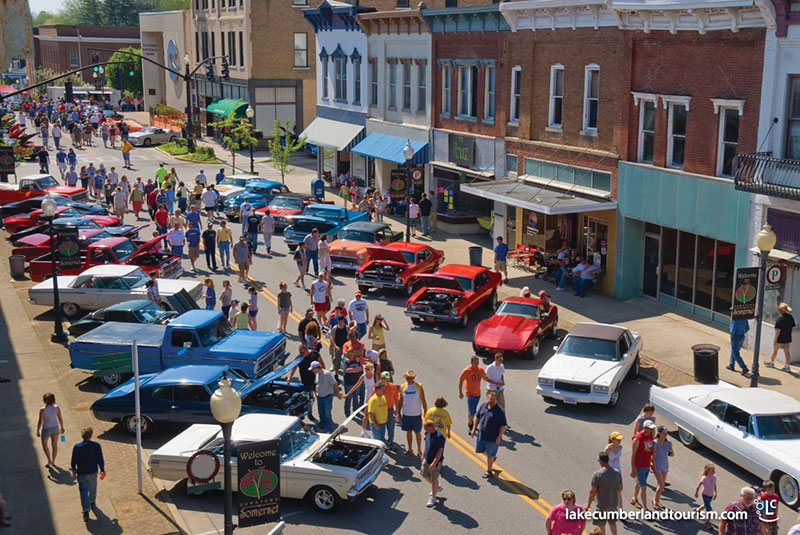 Lake Cumberland beckons thousands to Pulaski County each year, but Somerset is not a one-trick pony. Festivals do their part as well.
The Somerset Cruise celebrates its 20th anniversary this year. Restored antique cars cruise downtown and each month brings a different type of car or truck. The dates this year are April 24-25, May 22-23, June 26-27, July 24-25, Aug. 21-22, Sept. 25-26 and Oct. 23-24.
The Master Musicians Festival is an outdoor two-day music festival held annually in July in Somerset. Slated this year for July 17-18, the festival includes a wide array of music.
Somerset is adorned with a number of wall murals scattered about the city. Created by a variety of artists from traditional to abstract, the scenes feature an array of subjects.
The 2020 Streets, Eats & Music is a food truck and busker musician's festival with breweries, wineries, vendors, a kid's corner, and musicians providing street music. Call (606) 679-6366 or email [email protected] for the exact date or more information.
The Shamrock Shuffle, organized by the Somerset/Pulaski County Chamber of Commerce, is a 5K run/walk that takes place each March. Participants of all ability levels are welcome. The course is a measured 5K race, and professional chip timing is used to ensure race time accuracy.
Somerset also hosts an annual Derby event, transforming its downtown into a celebration experience with food, drink, music and art. Last year the first-ever Moonlight Festival proved a fun way to celebrate on New Year's Eve. Look for more information on the 2020 event at somersetpulaskichamber.com.
---
Debra Gibson Isaacs is a correspondent for The Lane Report. She can be reached at [email protected].