By Lorie Hailey
(Editor's note: This is part seven in our series about how Kentucky businesses are responding to the challenges presented by COVID-19. See the full report.)
Many companies are relying on business service partners to help them navigate the impacts of COVID-19. From IT service providers to business strategy consulting services and others, disruption caused by response to the global pandemic has increased the need to partner with agencies who are experts in dealing with crises of all kinds.
MCM, the largest CPA firm in Kentucky, has been "extremely busy" helping clients remain efficient during sudden disorienting change, said CPA Henry Hawkins, who leads MCM's new COVID-19 Solutions Group.
The group was formed to "assist clients on accounting and business matters in the wake of implications from the coronavirus pandemic," Hawkins said. It has eight key focus areas: tax; payroll; human resource; banking/SBA loans; business interruption; accounting/reporting; information technology; and corporate structure and strategy.
MCM developed a COVID-19 online resource center to provide information to clients, and the company is conducting regular webinars to offer guidance on best practices for seeking financial relief and business support during the pandemic, Hawkins said.
MCM has offices in Louisville and Lexington in Kentucky, as well as in Jeffersonville and Indianapolis, Ind., and Cincinnati. Before the pandemic, it already had team members who worked remotely year round because of residential location or business needs, said Brad Smith, MCM's managing partner. Because much of the firm's work traditionally has been done on-site at client locations, MCM was well prepared for the full-scale teleworking situation it had to enact when Gov. Andy Beshear advised Kentuckians in mid-March to work from home and stay "healthy at home," Smith said.
Smith shared with The Lane Report details of how MCM has been handling the challenges of COVID-19 for our Making It Work series.
The Lane Report: When this situation arose, how did your company come up with a plan and how quickly did you implement it? When did your employees start working from home?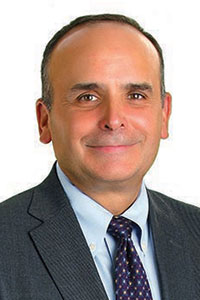 Brad Smith: We were fortunate that we had a business continuity plan in place that we were able to quickly adapt based on the changing needs of the crisis. Decisions had to be made quickly, and we were fortunate to have a solid technology infrastructure that allowed us to quickly migrate our team to a mostly remote workforce. The key to the transition for our team was communication and asking them to be flexible when decisions had to be made as to how and where we work. Due to our established platform, certain of our team members began working remotely in early March, with a full-scale launch of our remote workplace program on March 16.
TLR: What was required to convert you staff to telework? Did you have to purchase new equipment or conduct special training for employees?
Smith: Our firm has heavily invested in technology over the last several years that allows our team to work remotely very effectively. A large part of our business requires on-site travel to clients, so we had much of what we needed on hand to work remotely. Our team is also trained during onboarding to work remotely, which has minimized the need for training during this crisis. They have been able to be up and running since day one of the crisis.
TLR: What were the biggest challenges?
Smith: Our challenges have really come in the form of engagement and staying connected to one another. For the most part, we have had very few technology issues.
TLR: What is a typical workday like now with your telecommuting workforce? Do you have video meetings or conference calls? Do you a do a daily check-in? Do you use any special messaging software to communicate?
Smith: We have asked our department leaders and managers to routinely touch base with their team to make sure everyone is doing OK and doesn't need anything. In addition, our operations team has put together videos, Zoom trivia games and townhalls. Our virtual meetings/chats have been supported by Skype, instant messaging and Zoom. Our team has become very efficient collaborating within these platforms, which helps increase productivity of the interactions. We have also continued to leverage OHANA, one of our workplace communication tools we utilize for our team to stay connected.
TLR: What has been the reaction from your staff?
Smith: Most have been very receptive of the measures we have taken to ensure safety for those working remotely and those working in the office. We have limited our on-site team to ensure social distancing measures are enforced. At the end of the day, we want what is best for the team and our firm.
TLR: In what other ways has COVID-19 affected your business? What plans have you made to deal with the challenges presented?
Smith: The unanticipated business interruption has definitely presented challenges we didn't anticipate in 2020. However, it has been fantastic to see our team step up where needed to ensure we could continue to service our clients at the highest levels. We have also noticed a heightened level of collaboration, which has been impressive to see. While some of our business has slowed, the year-end assurance services we offer are still in process and tax returns must still be done, albeit remotely.
TLR: What tips do you have for other companies trying to make this a successful and smooth transition?
Smith: Communication is critical to the success of this business transformation. It is critical to communicate the "why" of decisions being made, the "how" of business processes and "where" it should be done. Remote work can be done very effectively with direction and willingness of the team to adjust and adapt to the evolving situation.
---
Share your story
We want to hear how business leaders across the state have responded to the challenges presented by COVID-19 and the efforts to stop the spread of it. If your business would like to share its story, email Lorie at [email protected].