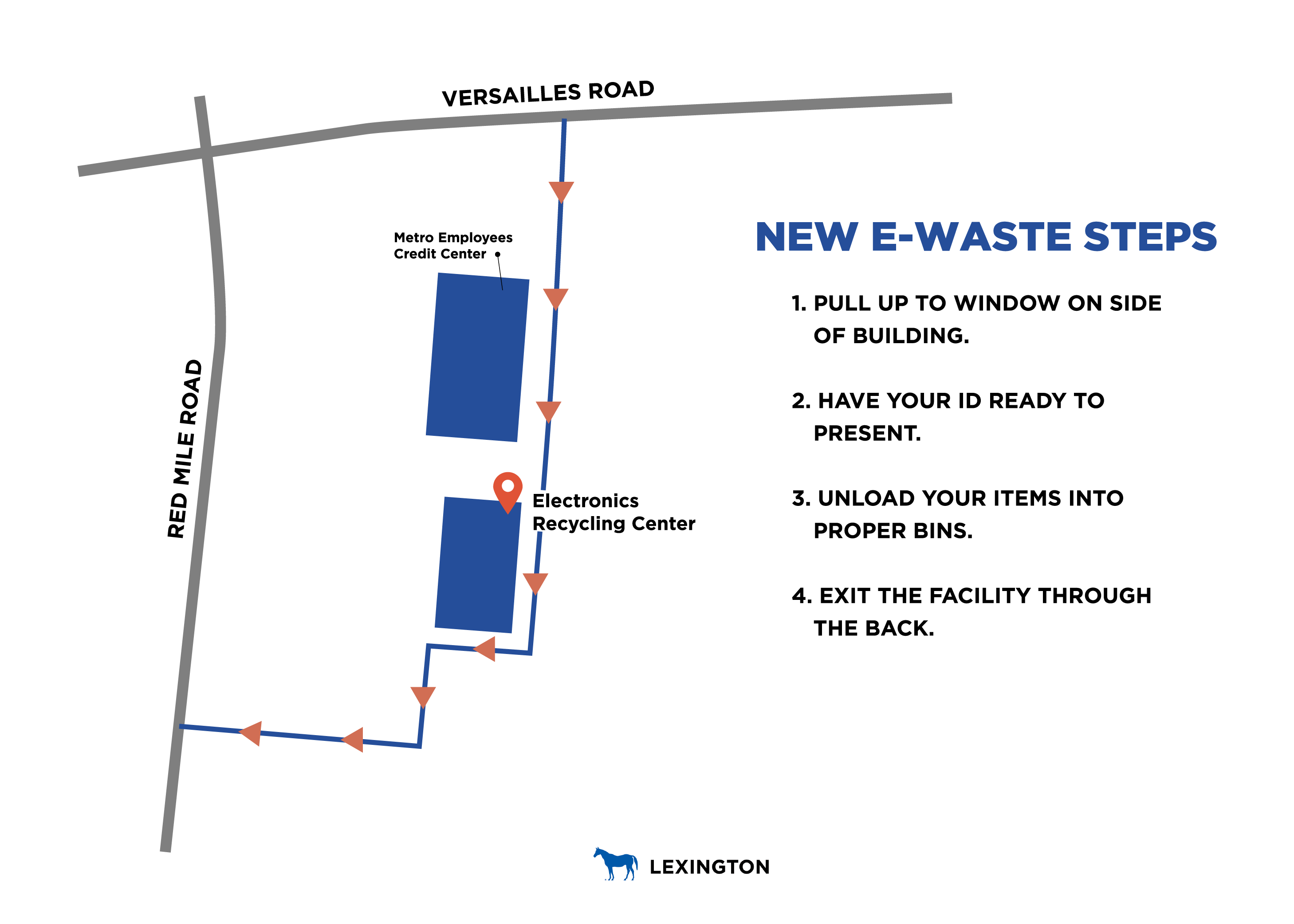 LEXINGTON, Ky. — Lexington's Electronics Recycling Center, located at 1306 Versailles Road, will reopen to the public on Monday, July 6 with new socially-distant procedures in place. The center closed in March because of the COVID-19 pandemic.
Hours of operation will be 8 a.m.-4 p.m., Monday, Tuesday, Thursday and Friday; noon to 4 p.m. Wednesday and 8 a.m.-noon Saturday. The Electronics Recycling Center is open to Fayette County residents only.
The process for dropping off electronics for recycling has changed. Residents will pull up to a window on the exterior of the building and present their identification instead of driving into the building. The window will be shielded to protect both residents and employees. After verification, the resident will be asked to unload their items into the marked boxes provided adjacent to the window. After the recyclables are unloaded, residents should exit the facility via the back gate, following directional arrows.
The Electronics Recycling Center has limited capacity for waiting cars. To prevent long lines and minimize wait times, residents are encouraged to hold their materials a bit longer, if possible. This will help balance the volume of vehicles at the center as it reopens.
The center does not accept items from businesses, including home businesses, or nonprofit organizations such as churches and schools.
Acceptable items include:
Computers, printers, copiers;
Printer cables, coaxial cables, RCA wires, HDMI cords, USB cables, power cords;
Printer cartridges and toner cases;
Cell phones and other communication devices;
Microwave ovens;
Televisions and monitors;
Vacuum cleaners;
CDs, DVDs and their cases;
VHS and cassette tapes;
Audio and video players/equipment;
Small corded electrical items such as toasters, hair dryers, or radios;
Extension cords;
Holiday lights;
Fluorescent light tubes;
MP3 players and handheld games;
Laptops and electronic tablets; and
Rechargeable batteries (We do not accept automotive or other lead-acid batteries. Batteries Plus will accept all batteries for a fee.)
More information can be found at LexingtonKY.gov/eWaste.