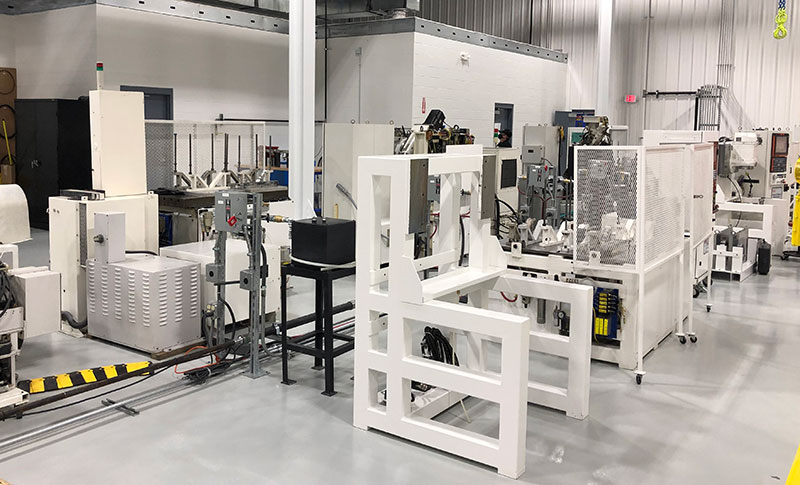 FLORENCE, Ky. — As part of its most recent $15 million investment in its Florence-based manufacturing campus, Mazak Corp. has announced the completion of its newly expanded Spindle Rebuild Department, now located in the company's South Building.
The expansion coincides with other Mazak investments, including new Technical Centers in Northern California, Florida and most recently Canada, all of which have been developed to provide local manufacturers with fast and reliable applications expertise, training, service and support. 
Mazak expansion efforts that also extend to its manufacturing plant, encompass the installation of a new state-of-the-art manufacturing cell with fully automated storage and retrieval system, six of Mazak's most advanced machine tools and several of its Mazak SMOOTH TECHNOLOGY digital process monitoring solutions. The upgrades to the production facility, which has been expanded nearly 20 times since it opened in 1974, will allow the company to satisfy growing customer demand and provide the shortest possible turnaround times.  
In addition to visiting in person, individuals will soon be able to experience the new expanded Spindle Rebuild Department and Mazak's entire manufacturing campus as part of an interactive 360 Kentucky Campus Tour. This virtual interactive tour is part of Mazak's recently launched three-pronged holistic digital customer experience, which also features an immersive Virtual Technology Center and All Axes LIVE, an ongoing series of robust online events where attendees gain exclusive access to new never-before-seen Mazak manufacturing technology. 
Continual investments, such as the Spindle Rebuild Department expansion, in its facilities allow Mazak to quickly and effectively fulfill customers' evolving needs for advanced machine tool technology and applications support for U.S. manufacturing in industries that include medical, aerospace, automotive, construction and agriculture equipment, automotive and medical industries. With the new Spindle Rebuild Department, Mazak has reset the bar for efficiency and quality in OEM-factory-certified machine tool spindle rebuild services. The expanded and newly updated department will further improve the company's ability to quickly deliver spindles and reduce customer downtime. 
The Spindle Rebuild Department supports every Mazak machine tool spindle in North America, including over 2,000 different models covering a wide range of horsepower ratings and speeds. As a cost-effective option for its customers, the expanded department will keep upwards of 1,000 rebuilt spindles in stock and ready for exchange, especially those found in Mazak's most popular machine models.
To guarantee that all original spindle specifications are met or exceeded, experienced factory-trained technicians use only genuine Mazak replacement parts to rebuild Mazak spindles. Within a tight turnaround window, these technicians perform every stage of the repair and rebuild process, provide comprehensive and trackable spindle documentation, and conduct stringent testing of every spindle. The expansion has not only made room for additional technicians but also allows the department to boost its rebuild output to 100 spindles per month.
"Mazak's Spindle Rebuild Department leverages over 30 years of spindle build expertise to offer the industry's best spindle warranty," said Matt Whissel, spindle repair manager for the Mazak Spindle Rebuild Department. "We understand our customers don't have time to wait, and Mazak is truly committed to doing whatever we can to support these customers. And with our new facility, we have the capacity to return repaired spindles in three to five days and ship remanufactured spindles in less than 24 hours." 
To reach that level of efficiency, Mazak has significantly expanded the new spindle department's work area, and the clean, bright and ergonomic workspace will streamline rebuild operational flow, efficiency and speed, as will its closer proximity to the Mazak Parts Department in the South Building. To further streamline its spindle rebuild process, Mazak has also incorporated new advanced technologies, including spindle balancing units and other process systems intended for accommodating larger spindles.
Details on the interactive 360 Kentucky Campus Tour and Virtual Technology Center will be available in the coming days and weeks. For updates, follow Mazak on Facebook, Twitter, Instagram and YouTube and visit MazakUSA.com.