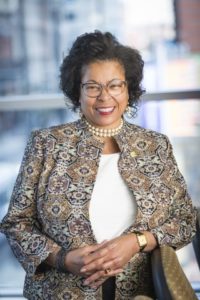 CINCINNATI — Fifth Third Bank, National Association, has been named for the first time one of the best places to work for people with disabilities as part of the 2020 Disability Equality Index (DEI), the nation's most comprehensive benchmarking tool for disability inclusion.
The index is a joint initiative between leading disability organizations, the American Association for People with Disabilities, Disability: IN, and businesses that have invested in accessibility and inclusion across their company.
"At Fifth Third Bank, we believe that inclusion and diversity are essential, and we are committed to creating and nurturing a thriving business environment that values and celebrates our employees and customers," said Greg D. Carmichael, chairman, president, and CEO of Fifth Third Bank. "We recognize that the best way to attract, retain, and grow talented individuals with disabilities is to create an accessible, inclusive workplace."
"It is an honor to be recognized on the 2020 DEI. Employees with disabilities help us reflect the diverse customers and communities we serve," said Stephanie Smith, senior vice president, and chief inclusion and diversity officer. "We are actively inclusive by creating connections that prioritize diversity of thought, background, and experiences."
The 2020 DEI measured culture and leadership; enterprise-wide access; employment practices pertaining to benefits, recruitment, employment, education, retention, advancement, and accommodations; community engagement; supplier diversity and the non-weighted category of non-US operations. The index was created in 2015 by the DEI Advisory Committee, a diverse group of business leaders, policy experts, and disability advocates. It exists to help businesses positively impact the unemployment and underemployment of people with disabilities. Businesses that score 80% or higher are distinguished as the best places to work. Fifth Third Bank scored a 90%, which builds on Fifth Third's Environmental, Social and Governance strategy aligned to the United Nations Sustainable Development Goal (SDG) No. 10, Reduce Inequalities. For more information, see https://www.un.org/sustainabledevelopment/sustainable-development-goals/.
"This year's top-scoring Disability Equality Index companies are demonstrating their commitment to many of the numerous leading disability inclusion practices featured in the DEI, recognizing that there's still room for improvement," said Jill Houghton, president, and CEO, Disability: IN. "We are proud to have developed strong partnerships with corporate allies who are committed to advancing disability inclusion and equality across their businesses in the United States and around the world."
About Fifth Third
Fifth Third Bancorp is a diversified financial services company headquartered in Cincinnati, Ohio, and the indirect parent company of Fifth Third Bank, National Association, a federally chartered institution. As of March 31, 2020, Fifth Third had $185 billion in assets and operated 1,123 full-service banking centers and 2,464 ATMs with Fifth Third branding in Ohio, Kentucky, Indiana, Michigan, Illinois, Florida, Tennessee, West Virginia, Georgia, and North Carolina. In total, Fifth Third provides its customers with access to approximately 53,000 fee-free ATMs across the United States. Fifth Third operates four main businesses: Commercial Banking, Branch Banking, Consumer Lending, and Wealth & Asset Management. Fifth Third is among the largest money managers in the Midwest and, as of March 31, 2020, had $374 billion in assets under care, of which it managed $42 billion for individuals, corporations, and not-for-profit organizations through its Trust and Registered Investment Advisory businesses. Investor information and press releases can be viewed at www.53.com. Fifth Third's common stock is traded on the Nasdaq® Global Select Market under the symbol "FITB." Fifth Third Bank was established in 1858. Deposit and Credit products are offered by Fifth Third Bank, National Association. Member FDIC.
About the Disability Equality Index
The Disability Equality Index (DEI) is a national, transparent benchmarking tool that offers businesses an opportunity to self-report their disability inclusion policies and practices. It was developed by two national leaders, the American Association of People with Disabilities (AAPD) and Disability: IN, in consultation with the appointed DEI Advisory Committee, a diverse group of experts in business, policy, and disability advocacy. Learn more at www.DisabilityEqualityIndex.org.
About the American Association of People with Disabilities (AAPD)
AAPD is a convener, connector, and catalyst for change, increasing the political and economic power for people with disabilities. As a national cross-disability rights organization AAPD advocates for full civil rights for the 50+ million Americans with disabilities. Learn more at www.aapd.com.
About Disability: IN
Disability: IN, formerly known as the US Business Leadership Network, is the leading nonprofit resource for business disability inclusion worldwide. Partnering with more than 220 corporations, Disability: IN expands opportunities for people with disabilities across enterprises. The organization and 30 affiliates raise a collective voice of positive change for people with disabilities in business. Through its programs and services, Disability: IN empowers businesses to achieve disability inclusion and equality, with the goal of advancing inclusion to the point when the organization is no longer necessary. Learn more at www.disabilityin.org.