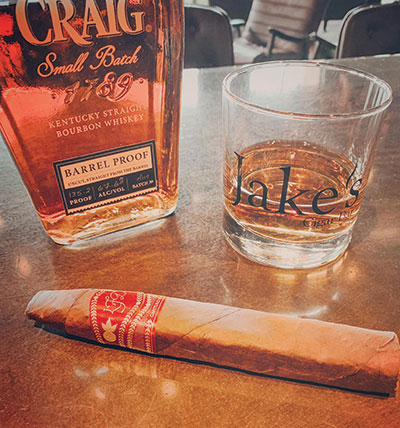 If your idea of relaxing involves a good cigar and a smooth bourbon, make your way to Jake's Cigar Bar, a unique spot located in northern Jessamine County, just across the county line from Lexington.
Jake and Autumn Glancy first opened Jake's in 2011. Though the country was still recovering from a deep recession, their endeavor thrived. Last year, they moved from their location in a strip center to a standalone location across the street that provides double the seating. The new building, designed by Lexington-based EOP Architects, was inspired by a historic barn that once stood on the property.
"EOP's objective was to illustrate the story of tobacco and bourbon," said Kevin Gough, EOP's principal-in-charge of the project. "From the color palette to the club-feel layout…to the custom chandelier designed to represent drying tobacco, every element of the design contributes to this story."
The new space also features a walk-in humidor showcasing hundreds of cigars; a private mezzanine level that overlooks the main cigar lounge; a bar with an extensive selection of bourbon, along with wine and beer; a 40-foot patio and an outdoor space complete with a putting hole and corn hole games.
"We're a different kind of place," Jake Glancy told The Jessamine Journal last year at the grand opening of the new location. "We're not the smoky gentlemen's club of the past where ladies weren't welcome, and nonsmokers were uncomfortable. Anyone over 21 will be comfortable and find something they enjoy. If you're not a smoker, you'll hardly know that anyone is smoking at Jake's. We've installed a $40,000 HVAC system that replaces any stale air with fresh air completely every 10 minutes."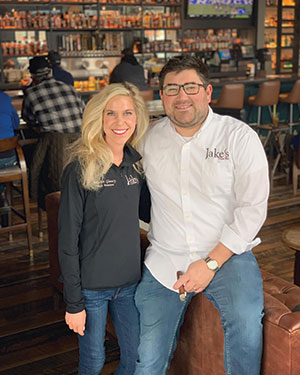 Autumn Glancy took a moment recently to answer questions about Jake's and offered tips about the best way to enjoy a good cigar.
What are the best cigars to smoke if you are just starting out and not wanting to break the bank?
It's best to start off with a lighter shade like a Connecticut. Nothing too heavy. I recommend our white label Jake's Cigar House Blend or a Romeo Y Julieta.
Should you always place your cigars in a humidor?  
Yes.
What kind of spirits pair well with a cigar?  
Anything does. Usually darker spirits like rums and whiskeys pair the best. We have a great selection of bourbon barrel picks that complement the cigar flavor well too. 
I see short/fat/long/skinny cigars. What is the difference?  
It's all about personal preference and time. The thickness of the cigar is all personal preference and length is just how much time you have to enjoy the smoke. 
Should you always cut your cigar? Is a guillotine cutter the best or a wedge?  
All hand-rolled cigars have to be cut. The cutter is also a personal preference—and in a pinch you can use a golf tee! 
What is the best temperature to store cigars?  
I go by the 70/70 rule: 70% humidity and 70-degree temperature. The humidity can be lower if you're just aging the cigar but if you're ready to smoke, it's better to bring the humidity before you smoke it. Too dry and too cold won't destroy a cigar, but too hot and too wet will. ■