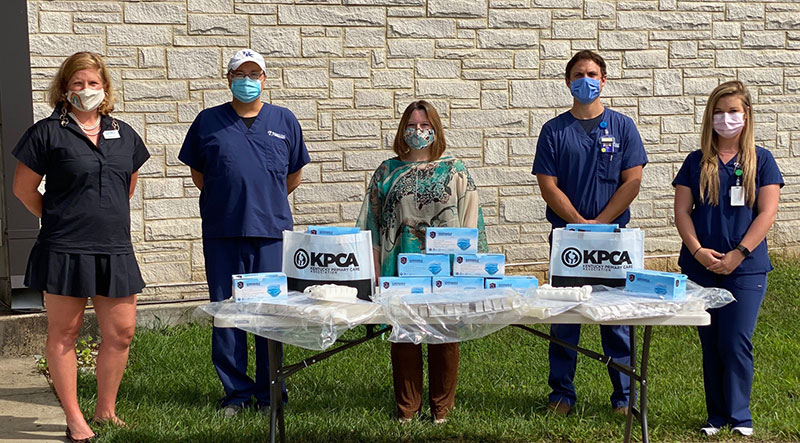 FRANKFORT, Ky. — Personal Protective Equipment (PPE) is essential to protect frontline healthcare workers. Throughout the COVID-19 pandemic, the Kentucky Primary Care Association (KPCA) has worked with our provider members to identify PPE suppliers and stockpiles so our members can maintain an adequate amount of PPE for their staff and patients. KPCA has also worked to acquire donations of PPE.
"Today, we are excited to announce a significant PPE donation from UnitedHealthcare," said David Bolt, CEO of the Kentucky Primary Care Association. "The donation of 10,000 surgical masks will be divided among 10 different primary care clinics across the state, while 400 face shields will go to dental and pediatrics services at six other facilities."
The donated items have been delivered to the KPCA office in Frankfort. KPCA staff are sorting and delivering the supplies to the local facilities.
"Our mission is to help people live healthier lives and to help make the health system work better for everyone, and UnitedHealthcare's partnership with KPCA highlights our commitment to help protect frontline workers and the patients they serve in Kentucky," said Amy Johnston, CEO, UnitedHealthcare Community Plan of Kentucky. "Supporting our providers and community through compassion and caring continues to be our focus during the COVID-19 pandemic, and we are honored to provide needed support in the commonwealth."
The following facilities will receive the donated PPE:
Lakeside Primary Care, Somerset (Pulaski Co.)
In House Primary Care Services, Booneville (Owsley Co.)
Appalachian Family Care, Pine Knot (McCreary Co.)
Daniel Boone Family Healthcare, Barbourville (Knox Co.)
One Cross Medical Clinic, Campbellsville (Taylor Co.)
Helping Hands Health Clinic, Elkton (Todd Co.)
New Path Medical Center, Columbia (Adair Co.)
Clay City Pediatrics & Primary Care, Clay City (Powell Co.)
Community Family Clinic, Frenchburg (Menifee Co.)
HealthFirst Bluegrass, Lexington (Fayette Co.)
Clover Fork Clinic, Evarts (Harlan Co.)
White House Clinic, Richmond (Madison Co.)
Juniper Health, Jackson (Breathitt Co.)
Triad Health Systems, Owenton (Owen Co.)
"We are grateful to UnitedHealthcare," concluded Bolt. "These donated items will keep countless numbers of medical professionals safe as they continue to provide quality healthcare to Kentuckians."
KPCA members include Federally Qualified Health Clinics (FQHCs), or community health centers as they are commonly called, and Rural Health Clinics (RHCs). These facilities provide care for more than one million Kentuckians at locations in more than 90 counties. To find a FQHC or RHC in your community go to: https://kpca.net/map/ql/health-care and search the category map.
Please click here for a video of the announcement.