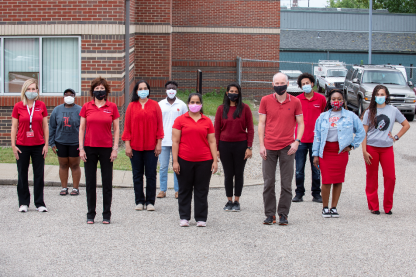 LOUISVILLE, Ky. — They've spent hours training, including the completion of Johns Hopkins University's online contact tracing course. Now, nearly a dozen undergraduate and graduate students from the School of Public Health and Information Sciences are playing an integral role in keeping the University of Louisville safe from the spread of COVID-19.
Maymie Owens will graduate in December with a bachelor of science in public health. She's working 28-30 hours each week providing information to close contacts of COVID-19 positive status students, faculty and staff.
"It gives me the chance to be part of something that can improve the health of the community, as well as gain background knowledge for my future career," Owens said.
It's a big job that can help stop the spread of COVID-19, said Dr. Craig Blakely, dean of the School of Public Health and Information Sciences.
"In the absence of a vaccine, contact tracing is paramount. If we can stop the spread of the virus at points of contact, then everyone else is more free to move about while practicing physical distancing and wearing masks.
"Our students are gaining incredible experience for their future public health careers. This work is a resume builder for the students, some of whom earn practicum or capstone experience credit. More importantly, it is crucial to helping our community fight COVID-19," he said.
It is Owens' second time working as a contact tracer. She was one of 40 UofL public health, biomedical science and medical students, along with medical residents who volunteered the past few months with the Louisville Metro Department of Public Health &Wellness' (LMPHW) contact tracing team.
"We would make sure residents of Jefferson County who tested positive were staying isolated and quarantined, while ensuring they had someone who could bring them groceries and toiletry items. If not, we would connect them with resources to try and help meet their needs," she said.
Lydia Tanque is working to complete a bachelor of arts in public health and says she welcomed the chance to work with environmental health professionals on a health issue affecting the lives of so many.
"One of the most valuable things that I've learned is being able to observe how different systems work together. Some days we'll receive an influx of new cases from our testing facilities on campus. Other days we receive no new cases for hours. We must maintain daily contact with Campus Health Services and provide daily data reports," Tanque said.
Student workers central to UofL's fight against COVID-19
The student workers have greatly expanded the bandwidth of Campus Health Services, said Cheri Hildreth, MBA, director of the Department of Environmental Health and Safety (DEHS).
Campus Health makes initial calls to members of the UofL community who test positive for COVID-19, and then Hildreth's team makes phone calls to positive cases and close contacts, providing education and information on up-to-date isolation safety measures and guidelines.
It is a robust operation performed by a full-time DEHS employee and 11 public health student workers. Utilizing her knowledge as a contact tracer with LMPHW, environmental health doctoral candidate Sivarchana Mareedu, MS, has helped develop training courses, a contact tracer script, an eight-step workflow and shadowing opportunities for UofL's contact tracing workforce.
"Sivarachana had the necessary insight to create a plan that has helped the program run smoothly from start to finish. She is our contact tracing team supervisor and a phenomenal asset," Hildreth said. "All the students working with us are proactive, have great communication skills and are detail oriented – we couldn't do it without them."
For Owens, the experience has provided the hours needed for her capstone experience, a requirement of graduation.
"I've exceeded those hours but I am not stopping because the help is still needed," she said.
Like Owens, Tanque says she is grateful to be part of something meaningful.
"After feeling like life was essentially on pause these past few months, I'm glad to be back on campus with the rest of my classmates. It feels like I'm a part of the fight for all of us to one day get past this," she said.