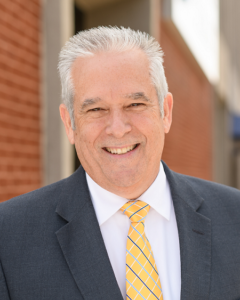 London, KY — Cumberland Valley National Bank (CVNB) announced that Ron Hart has been appointed CVNB's
Executive Vice President and Chief Financial Officer, effective October 1, 2020.
Mr. Hart has served as CVNB's Chief Credit Officer (CCO) since 2016 and starting in June of 2017 he has served as both CCO and Chief Operating Officer (COO). Mr. Hart began his banking career managing an in-house IT department at a community bank in Somerset, Kentucky. Throughout his career, he has been heavily involved in operations and treasury management, project management, and leading process improvement practices. He has previously served as CFO at two community banks, as well as several other executive-level positions within banking
services companies.
"We're happy to have Ron serving as our Chief Financial Officer," said Elmo Greer, CVNB's President, and Chief Executive Officer, "Ron has earned a reputation as a leader within our organization. He has a broad range of banking expertise and a detailed understanding of our business – combining his knowledge bases will help us continue to develop strategies for improved operations and growth." Mr. Hart noted, "I am excited to move into my new leadership role at CVNB. I've had the pleasure of working with Elmo and the team for several years and I appreciate CVNB's customer-centric culture. Elmo Greer, Jim Tatum, and the entire CVNB team have built a solid, community-focused, banking institution and I am excited to add to CVNB's continued growth and success." Mr. Hart holds a Bachelor of Science degree (Computer Science/Mathematics) from Eastern Kentucky University. He is also a graduate of the Kentucky School of Banking, the Graduate School of Banking at LSU, and the Graduate School of Financial Management & Investments at the University of South Carolina.
CVNB, with a banking history of more than 116 years, is a privately-held financial institution headquartered in London, Kentucky that operates 14 branch locations in six Kentucky cities: London, Corbin, Berea, Richmond, Somerset, and Lexington. More information can be found at http://www.CVNB.com