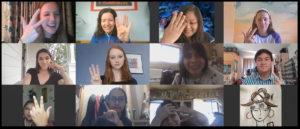 LEXINGTON, Ky. — It is difficult to break into the fashion and merchandising industries. A University of Kentucky lecturer and alum created a virtual experience to help make those valuable industry connections for current students.
The idea for the program came from 2017 UK graduate Ellen Waymire, an associate merchant at Express Inc. in Columbus, Ohio. She discovered her boss was offering a virtual mentorship opportunity to students at Ohio State University, and she wanted to give back to her alma mater. She contacted her former instructor Mika Pryor, a lecturer in the UK Department of Retailing and Tourism Management that is based in the College of Agriculture, Food and Environment.
They developed a virtual mentorship experience that allows small groups of students and an alum a chance to interact once a month over the videoconferencing app Zoom.
"Due to the pandemic, it is hard for students to make the industry connections that they need," Pryor said. "This is a great opportunity for students to connect with people working in the industry and not only build their own professional network but also learn from someone with real-world experience."
Waymire asked her fellow MAT alums working in the industry to participate. Eleven of her former classmates are participating as mentors. They represent national companies including Macy's, Kohl's, Walgreens, Bloomingdales, and T.J. Maxx.
Pryor said current students welcomed the opportunity, and 26 MAT majors are participating.
Reilly Wysocki is one of those students. The junior MAT major from Huron, Ohio, joined the program to learn more about career opportunities within the industry.
"I personally am hoping to get a variety of things out of this program, especially networking opportunities," she said. "I think this will be a great opportunity to meet people and listen to their advice on how to get an internship and get offered a full-time position with that company. I am also hoping to learn more about job responsibilities, how to move up in a company, and how our mentors got to where they are today."
Paris Cover is a senior MAT major from Atlanta who chose to participate in the mentorship program for the networking opportunities and to get a better understanding of the steps it takes to land a job in the fashion industry.
"I hope that by the end of the mentoring program, I understand how to go about applying for jobs in this industry as well as understand how to network with people to find new opportunities," she said.
Waymire recently led the first Zoom meeting for the entire group and gave students an overview of the mentorship program. The students will soon be divided into three small groups based on career interests and meet with mentors on a more personal level.
Sabriyah Arain, a senior MAT major from Louisville, said she has already gained valuable information from the mentorship opportunity and hopes to receive more as the program progresses.
"I have learned that there are many different locations with opportunities for MAT students, Arain said. "I have also learned that using one's LinkedIn profile to its fullest advantage can serve as a great asset to navigate through the merchandising world. From this program, I hope to get a better sense of the steps I need to take to find a career that I enjoy and gain a more realistic understanding of what marketing for a fashion retailer may look like."