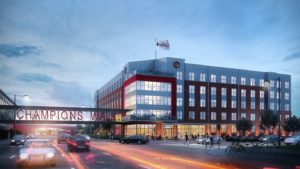 LOUISVILLE, Ky. – A new University of Louisville residence hall, located across Floyd Street from the Planet Fitness Kueber Center, will be built for occupancy by the UofL fall 2022 semester and will house several Cardinal student-athletes.
The new Southeast Corridor Residence Hall project will be a partnership among UofL Athletics, UofL Campus Housing and a third-party developer consisting of Buffalo Construction and Larry Gough, who also developed Cardinal Towne, another campus housing project. The developer will construct the 128-bed facility for approximately $23.5 million, with $3.5 million in donor funds to be raised through UofL Athletics contributing to the project. UofL Athletics retains the naming rights for the residence hall in return for the $3.5 million commitment.
"We are excited to partner with campus housing in providing both students and student-athletes a premier dorm to call home," said UofL Vice-President/Director of Athletics Vince Tyra. "The location of the dorm will provide our men's and women's basketball teams and our women's lacrosse team easy access to their primary athletic facility, the Planet Fitness Kueber Center, directly across Floyd street. It will be a trophy facility that exudes progress on campus as much as in athletics."
The residence hall, which will be connected to the Planet Fitness Kueber Center by a skywalk, is slated to open for the fall 2022 semester and will house a mixture of student-athletes and non-student athletes. Men's and women's basketball and women's lacrosse student-athletes – who each train in the adjoining facility, will live in the residence hall in which UofL Athletics will guarantee occupancy for 63 of the 128 beds to remain within the NCAA requirement of no more than 50% of the beds being occupied by student-athletes. UofL Athletics will also guarantee an additional 10 beds to be used by team managers and graduate assistants.
The residence hall will also serve as a Living Learning Community (LLC) for sophomore and above Sport Administration majors, enhancing one of UofL's top undergraduate programs. It will be managed by UofL Campus Housing and will include a full-time live-in hall director and three resident assistants.
The project site is owned by a combination of the UofL Foundation and University and will require a ground lease agreement with the Foundation. The Foundation's property is currently leased to a company that only requires a short notice to terminate the lease. The University property is currently used for campus parking.
The residence hall will be first-class and very beneficial in the recruitment and retention of top-level students and student-athletes alike. The building will become a campus landmark that features an enclosed crosswalk spanning Floyd Street, linking the residence hall and the Kueber Center. The hall's distinctive look will have the added benefit of enhancing the beautification efforts for the Floyd Street area on campus.