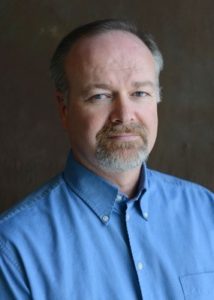 LOUISVILLE, Ky. —  John Trent, Ph.D., a University of Louisville researcher and innovator known for harnessing the power of thousands of computers to discover drugs that could fight everything from cancer to coronavirus, has been named a Fellow of the National Academy of Inventors (NAI).
Fellows are selected for their "spirit of innovation" in university research, helping to generate ground-breaking inventions that have a tangible impact on the quality of life, economic development, and the welfare of society.
Trent is the only 2020 fellow from the state of Kentucky and the seventh from UofL. The 2020 Fellow class of 175 inventors represents 115 research universities and governmental and non-profit research institutes worldwide.
As deputy director of basic and translational research at the UofL Health – Brown Cancer Center, Trent's Molecular Modeling Facility uses computer predictions to understand and virtually test how drug and disease molecules might interact before real-world testing in the lab.
Trent holds more than 50 patents, 24 of which are U.S., and numerous licenses and option agreements with potential commercial partners. Among other accolades, he received the Apple Science Innovator Award and the 2019 EPIC Innovator Career Impact Award, the latter awarded through the UofL Commercialization EPI-Center.