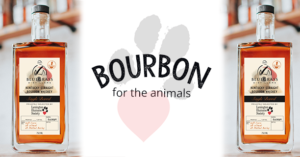 LEXINGTON, Ky. — We have bourbon!!! We are so excited to once again partner with Bluegrass Distillers on another Single Barrel Bourbon to benefit the animals. Bluegrass Distillers is bottling this special, Cask Strength Bourbon for us and selling a limited number of bottles to raise much-needed funds for the animals! Don't miss out on your chance on the purrfect Holiday gift for the bourbon lover on your list! Click here to purchase yours today!
Bottles are only $60 and $25, all bottle sales will benefit the Lexington Humane Society. Sales will end Friday, January 8th.
How to purchase:
1. Place your order online and pick it up at Bluegrass Distillers December 18th – January 8th.
2. Go directly to Bluegrass Distillers and purchase your bottle in person! To celebrate the release, they will be open after-hours on December 18th until 6 pm.
NOTE: KY Law Limits purchases to 6 bottles per person. Bottles not picked up by January 8th will be refunded, minus $20 which will be donated to LHS.
Bluegrass Distillers
501 W 6th ST #165
Lexington, KY 40508
Date and Time
Friday, December 18, 2020 – 12:00pm

 to 

Friday, January 8, 2021 – 4:00pm