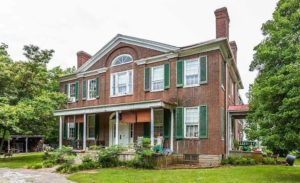 LEXINGTON, Ky. — Bluegrass Distillers has announced the purchase of Elkwood Farm in Midway. The Elkwood Farm is listed on the National Historic Register and was built-in 1835. The new location will include an expanded distillery, barrel warehouses, tasting room, visitor center, and event space.
The development plan includes a tasting room in the historic Elkwood Mansion, according to Bluegrass Distillers. The production facilities are designed to facilitate contract distilling and a bottling operation. The company's production capacity will increase from a little less than 1 barrel a day to approximately 20 barrels per 8-hour shift. The grounds will also have space for barrel storage. Also, the company will grow approximately 40-45 acres of blue and yellow corn on the property.
Bluegrass Distillers started from scratch mashing each ounce of grain by hand and opened its doors on West 6th Street in Lexington in 2013.